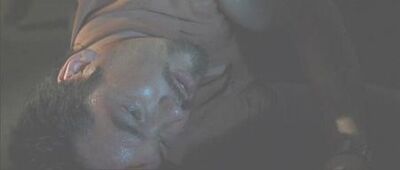 Dean Cain (1966 - )
The Stone Boy (1984) [Eugene Hillerman]: Accidentally shot to death by his brother (Jason Presson). (Thanks to Michael)
Best Men (1997) [Sergeant Buzz Thomas]: Shot to death, along with Sean Patrick Flanery, in a shoot-out with police (we only see them firing cutting too the police shooting back at them). (Thanks to Curtis and N.D.)
Lost (2004) [Jeremy Stanton]: Killed by Danny Trejo after being cornered by Danny's cohorts in a disused hanger (the film ends with Danny tapping on his car window, but the implication he will die is clear).
Dead & Deader (2006) [Lt. Bobby Quinn]: Dies after being bitten by the "zombie" parasite; he comes back to life as a zombie in the morgue, though he (unlike the other zombies) retains his original personality and intelligence.
September Dawn (2006) [Joseph Smith]: Shot to death by members of a lynch mob after they storm the jail; shown in a flashback sequence.
Abandoned (2010) [Kevin Peterson]: Falls to his death after losing his grip while holding on to a railing (Dean had been shot by Jay Pickett while attempting to draw his gun on Brittany Murphy).
Airplane vs. Volcano (2014; video) [Rick Pierce]: Killed when the plane lands into the volcano.
Lois and Clark: Vatman (1994) [Clark Kent/Superman/Superman Clone]: The Superman Clone dies in Superman's arms and is thrown into the sun to prevent his tissue being used to create another clone.
10.5: Apocalypse (2006) [Brad Malloy]: Crushed to death in a sinking casino after his rescue line breaks due to aftershocks.
Supergirl: Reality Bytes (2020) [Jeremiah Danvers]: While not appearing in the episode, he is revealed to have died off-screen from unknown causes during a conversation his daughters (Chyler Leigh and Melissa Benoist) have together. It is later revealed in the episode Deus Lex Machina that Dean was murdered by Andrea Brooks who staged his death as cardiac arrest after Jon Cryer manipulates Andrea into believing Dean killed her father.
Community content is available under
CC-BY-SA
unless otherwise noted.