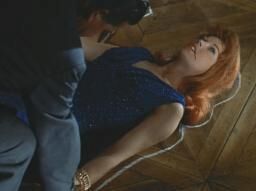 Dawn Addams (1930 - 1985)
Deaths in Film
[
]
Come Dance with Me (Voulez-vous danser avec moi?) (1959) [Anita Flores]: Shot to death (off-screen) by

Philippe Nicaud

in her office; her body is shown afterwards when Brigitte Bardot discovers Henri Vidal standing over Dawn's body. The murder is later depicted in a flashback, though the actual shooting remains off-screen.
The Two Faces of Dr. Jekyll (Dr. Jekyll and Mr. Hyde, House of Fright; Jekyll's inferno) (1960) [Kitty Jekyll]: Overcome with shock after seeing the body of Christopher Lee, she swoons when leaning over her room balcony and falls over it, crashing through the glass ceiling of the dancefloor below. (Thanks to Neceros)
The Vault of Horror (Tales from the Crypt Part II) (1973) [Inez]: Killed by supernatural forces when she attempts the Indian rope trick. We see her screaming as she vanishes after reaching the top of the rope, we then see a bloodstain forming on the ceiling.
Deaths in Television
[
]
Department S : Handicap Dead (1969) [Dianne Lynne] : Shot dead in her bed by Dudley Sutton; we only see Sutton shoots at her. Her body is not shown afterwards.