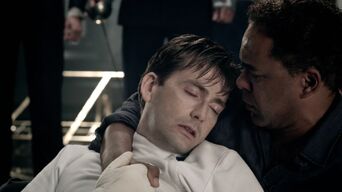 David Tennant (1971 - )
Harry Potter and the Goblet of Fire (2005) [Barty Crouch, Jr.]: Presumably given the "Dementor's Kiss" as punishment for escaping Azkaban and aiding Lord Voldemort's (Ralph Fiennes) return. Although David isn't shown on-screen dying this way, nor is it outright stated this will happen to him, it's discreetly implied since Michael Gambon says after his capture that Azkaban will find their "missing a prisoner," in addition to the fact that David's character met this fate in the original book.
Glorious 39 (2009)[Hector Haldane, MP]: Killed (off-screen) by Bill Nighy, who stages it to look like a sucide; we learn of his death when Romola Garai is informed.
Community content is available under
CC-BY-SA
unless otherwise noted.