David Carradine (1936 - 2009)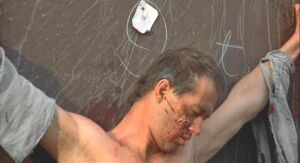 Deaths in Film
Edit
Heaven with a Gun (1969) [Coke Beck]: Stabbed in the neck with scissors by Ed Bakey for revenge.
The Good Guys and the Bad Guys (1969) [Waco]: Shot to death in a shoot-out with George Kennedy. (Thanks to Harry)
Boxcar Bertha (1972) [Big Bill Shelly]: Crucified when some railroad men nail him to the side of the train. (Nudity: Full frontal)
Mean Streets (1973) [Drunk]: Shot repeatedly in the back by Robert Carradine while David is standing at a urinal; he dies shortly afterwards, after attacking Robert and staggering out into the street.
Grey Lady Down (1978) [Captain Gates]: Crushed to death when his mini-sub is crushed beneath the sunken submarine to save the rest of the crew trapped in the submarine.
Lone Wolf McQuade (1983) [Rawley Wilkes]: Killed in an explosion after taking refuge in a munitions-filled warehouse during a shootout with Chuck Norris. (Thanks to Robert)
The Misfit Brigade (1987) [Col. Von Weisshagen]: Shot to death along with Oliver Reed by Bruce Davison and the surviving 27th Panzers. The film ends with them making a mock firing squad then opening fire.
Sonny Boy (1989) [Pearl]: Playing a female role, "she" is shot to death in a shootout with police. (Thanks to Robert)
Bird on a Wire (1990) [Eugene Sorenson]: Electrocuted when he falls on an electric fence, after falling from a rope bridge during a struggle with Mel Gibson. (Thanks to Tim)
Martial Law (1990) [Dalton Rhoades]: Killed with a "Dim-Mak" death-touch by Chad McQueen. (Thanks to Robert)
Evil Toons (1992) [Gideon Fisk]: A deleted scene shows that David commits suicide by hanging himself in the attic.
Night Rhythms (1992) [Vincent]: Shot to death when the gun goes off during a struggle with Martin Hewitt. (Thanks to Robert)
Dangerous Curves (Stray Bullet II) (2000) [Lemmy]: Shot in the chest by Maxine Bahns; he then falls overboard into the water. (Thanks to JimDandy)
Dead & Breakfast (2004) [Mr. Wise]: Dies of a heart attack; his body is later dug up and his bones used as weapons. (Thanks to PortsGuy)
Richard III (2008) [Buckingham]: Beheaded in an execution public in Salisbury market-place on 2 November 1483.
Death Race (2008) [Frankenstein]: Burned to death when his car catches fire during a race with Tyrese Gibson. (David did not physically appear in this movie; we only heard his voice coming from the car.) (Thanks to Adam and Tommy)
Road Of No Return (2009) [Mr. Hover]: Commits suicide (off-screen) by shooting himself under the chin with his gun in his office.
Detention (2010) [Principal Hoskins]: Killed (off-screen) by the possessed Michael Mitchell, while David is trying to reason with Gregory Mikurak's ghost; his body is not shown afterwards. (This film was released a year after his real life death.)
Deaths in Television
Edit
Johnny Belinda (1967 TV) [Locky]: Presumably shot to death by Mia Farrow when he tries to take her baby. (I have not seen this version, but I have seen Stephen McNally's death scene in the 1948 version.)
The Name of the Game: Tarot (1970) [Jason Blake]: Killed in a car crash while trying to escape, after Gene Barry exposes him as the killer. (Thanks to Tom)
Mr. Horn (1979 TV) [Tom Horn]: Executed by hanging.
Darkroom: The Partnership (1981) [Hitchhiker]: Crushed to death by the tentacles of the creature in the underground grotto, after Pat Buttram lures David into its lair with the promise of treasure. His body is shown again afterwards as Pat searches and robs David's body before allowing the creature to pull the body into the water.
Amazing Stories: Thanksgiving (1986) [Calvin]: Killed and eaten (off-screen) by the unseen underground dwellers, after he descends into the hole and they mistake him for an offering of food. We learn of his death afterwards when the Hole People send up a note to Kyra Sedgwick thanking her for the, "Thanksgiving turkey." (Thanks to Stephen)
North and South, Book II (1986; mini-series) [Justin LaMotte]: Thrown out of a window by Patrick Swayze. (Thanks to Grey Ghost)
Queen of Swords: End of Days (2001) [The Serpent]: Stabbed to death by Peter Wingfield. (Thanks to Robert)
Dinocroc vs. Supergator (2010 TV) [Jason Drake]: Dies of a heart attack during a shoot-out between Aurelia Scheppers and the FBI. (Which was released a year after his real life death) (Thanks to Stephen)
Deaths in Video Game
Edit
Saints Row (2006) [William Sharp]: Killed in explosion along with his men when his car blows up during a chase by the Protagonist shortly after murdering Tia Carrere.
Noteworthy Connections
Edit
Community content is available under
CC-BY-SA
unless otherwise noted.