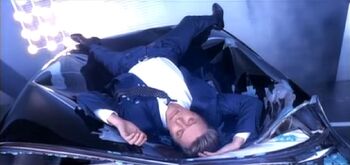 David Bowie (1947 - 2016)
Singer/songwriter
"I always had a repulsive need to be something more than human. I felt very puny as a human. I thought, 'Fuck that. I want to be a superhuman".
The Image (1967) [The Boy]: Playing a painting that comes to life, he is killed several times in different methods by Michael Byrne, but repeatedly comes back to life. (Thanks to Britta)
Just a Gigolo (1978) [Paul Ambrosius von Przygodski]: Shot dead while being caught in the firing line of the Commusits and the Nazis.
The Hunger (1983) [John Blaylock]: After rapidly aging into a state of helplessness due to the effects of his vampirism, he finally crumbles to dust after Catherine Deneuve's death "frees" all of her past consorts. (Thanks to Britta and Robert)
Merry Christmas, Mr. Lawrence (1983) [Major Jack "Strafer" Celliers]: Dies of exposure/dehydration after being buried up to his neck as punishment in the POW camp. (Thanks to Britta, Robert, and William)
Into the Night (1985) [Colin Morris]: Falls to his death, along with Carl Perkins, when they both crash through a window while struggling with each other. (Thanks to Robert)
Basquiat (1996) [Andy Warhol]: Dies (off-screen) on the operating table during surgery. (Thanks to Britta)
Mr. Rice's Secret (2000) [Mr. Rice]: Appears as a ghost.
Baal (1982 TV) [Baal]: Dies of an unspecified illness (presumably due to his lifetime of heavy drinking), after crawling along the floor to look out the window in the woodcutters' cabin.
"Jump They Say" (1993): Commits suicide by jumping from the roof of a building after being compelled to do so by a hypnotic treatment; his body is shown afterwards lying on the roof of a car as a crowd gathers around him. He periodically "comes back to life" to sing the chorus as it repeats, but finally dies at the end of the song. (Thanks to Joseph)
Ex-husband of Angie Bowie
Husband of Iman
Father of Duncan Jones (director)
Community content is available under
CC-BY-SA
unless otherwise noted.