David 'Shark' Fralick (1962 - )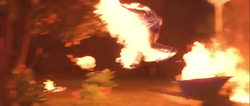 Film Deaths
Edit
Soultaker (1990) [Brad Deville]: Fatally injured in a car crash; he dies after his disembodied soul is taken away having been "throttled to death" by Joe Estevez. He later appears as a fellow death bringer before being destroyed by Robert Z'Dar (I haven't seen all of this film but it's confirmed/clarified only Gregg Thomsen and Vivian Schilling survive).
Uncle Sam (Video, 1996) [Sam Harper]: Burned to death in a helicopter crash; he dies after killing two Iraq insurgents. He later returns from the dead and dies once again when Issac Hayes shoots him with a cannon (after setting him on fire) as he attacks his nephew (Christopher Ogden) (Fralick was wearing heavy burn makeup or a mask for this role).
Executive Target (Video, 1997) [Simpson]: Killed by Michael Madsen or Keith David (my memory is vague but I recall he died at the end).
Chill Factor (1999) [Blonde Biker]: Struck in the head by an overhanging boulder while his fighting with Skeet Ulrich on top of a moving van roof driven by Cuba Gooding Jr. His body is later seen when it lands on the windscreen of a car.
Best of the Best 4: Without Warning (Video; 1998) [Oleg]: Killed in an explosion (along with Sven-Ole Thorsen) when his car collides with the fuel truck Sven is driving.
Community content is available under
CC-BY-SA
unless otherwise noted.