Wiki Targeted (Entertainment)
Play Sound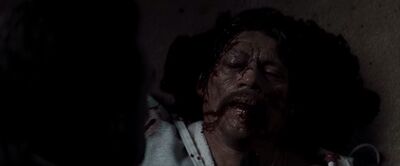 Danny Trejo (1944 - )
Ex-convict turned actor
Trejo is another serious contender for the greatest amount of recorded screen deaths.
The Hidden (1987) [Prisoner]: Shot in his jail cell by the possessed Clarence Felder.
Bulletproof (1988) [Sharkey]: Killed in an explosion when a grenade goes off in the vehicle.
Guns (1990) [Tong]: Crushed to death when a railing falls on him. 
The Last Hour (1991) [Spider]: Crushed to death when he is on the roof of the elevator to kill Michael Paré and Bobby Di Cicco, after being shot in the left foot by Michael.
Wedlock (1991) [Tough Prisoner #1]:
Sex Crimes (1992) [Palmer]: Shot in the head while in bed by a topless prostitute.
Love, Cheat & Steal (1993) [Cuban]: Head bashed in repeatably by Eric Roberts, while everyone in bar looks on in shock.
The Stranger (1995) [Hawk]: Neck snapped when his neck hits the gas pump tubing while riding his motorcycle, by Kathy Long.
Le jaguar (1996) [Kumare]:
Anaconda (1997) [Poacher]: Commits suicide by shooting himself in the head, rather than be killed by the giant anaconda. 
Con Air (1997) [Johnny 'Johnny-23' Baca]: Arm ripped off when the plane crashes while he's handcuffed to an overhead fixture; His body is shown afterwards when paramedics take him away, leaving behind his arm.
Los Locos (1997) [Manuel Batista]:
Point Blank (1998) [Wallace]: Stabbed in the stomach at the end of a fight with Mickey Rourke.
Nightstalker (2002) [Frank Luis]: Dies of his gunshot wounds while talking to Roselyn Sanchez.
xXx (2002) [El Jefe]: Killed in an explosion when an attack helicopter blows up his SUV while trying to escape.
Halloween (2007) [Ismael Cruz]: Hit on the head with a television set by Tyler Mane, after Tyler throws him against the walls and repeatedly dunks his head in a sink. 
Alone in the Dark II (2008) [Perry]: Killed by supernatural forces.
Necessary Evil (2008) [Barro]: Stabbed in the neck with a needle by one of the protagonists.
The Line (2009) (La Linea)  [Mario]: Shot repeatedly in the stomach and chest alongside his cohorts during a shootout with Ray Liotta.
Predators (2010) [Cuchillo]: Slashed to death by Predators; his body is shown afterwards propped up and with a voice simulator calling for help to make it look as though he's still alive, as a trap for the other prisoners. 
The Lazarus Papers (2010) [Aroon]: Commits suicide by jumping off a building. He continually comes back to life and repeats these efforts three times depute not knowing that he is cursed with immortality and all his efforts to end his life are in vain.
Boston Girls (2010) [Uncle Reggie]: Shot to death at the stadium.
Shadow in Paradise (2010) [Matador]: Shot in the head after a fight with Mark Dacascos.
Recoil (2011) [Drayke Salgado]: Shot to death by Lochlyn Munro as Trejo is about to kill Steve Austin at the end of a fight with a machete.
Zombie Hunter (2013) [Jesús]: Decapitated by a giant zombie monster, while the survivors look on.
The Book of Life (2014; animated) [Skeleton Luis]: Dies off-screen in a bullfight years before the story begins; his death is revealed in flashback and he later appears as a soul in The Land of the Remembered when Diego Luna arrives.
The Burning Dead (2015) [Night Wolf]: Possibly bitten or eaten (off-screen) after being attacked by a zombie. The film cuts to end credits leaving his fate open.
Boost (2016) [Roy Casares]: Shot to death off-screen by Grazi DiPaolo. The movie cuts to black as Grazi pulls the trigger.
Map of Hell (2016) [Himself]: Died in a motorcycle accident off-screen, body shown.
Nash Bridges: Internal Affairs (1996) [Sid Benedict]: Shot to death by Don Johnson.
Renegade: Hog Calls (1996) [Freddie]: Garroted by Mike Moroff.
Blood Ties: Wrapped (2008) [Pacha Kamaq]: Stabbed in the chest by Christina Cox; he then rapidly ages and crumbles into dust.
Breaking Bad: Negro y Azul (2009) [Tortuga]: Decapitated with a machete (off-screen) by Daniel Moncada and Luis Moncada; his severed head is shown afterwards when Dean Norris and other DEA officers discover it in the desert on the back of a turtle before a bomb destroys it. His actual death is shown in the episode IFT. 
Rize of the Zombies (2012; TV movie) [Captain Caspian]: Shot to death by one of the protagonists after Danny has turned into a zombie.
Def Jam Fight for NY (2004) [Danny Trejo]: Thrown into oncoming subway train by either of the characters that player decides to play as.
"Open Your Eyes" (2012) [The Man]: Slashed to death with a chainsaw after Devanny Pinn drops it on him while Trejo is lying in an open grave.
"Whistle Dixie" (2012) [Dead body]: Appearers as a dead body in the morgue. 
David Guetta & Sia: Flames (2018) [The Master]: Stabbed to death by samurai swords, while Courtney Chen looks on in horror. He appears as a spirit to her afterwards during combat. 
Community content is available under
CC-BY-SA
unless otherwise noted.