Wiki Targeted (Entertainment)
Play Sound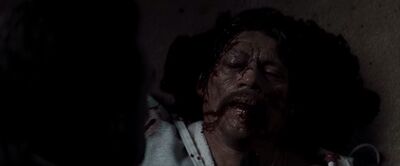 Danny Trejo (1944 - )
An ex-convict turned actor, Danny Trejo is another serious contender for the greatest amount of recorded screen deaths.
Film Deaths
[
]
The Hidden (1987) [Prisoner]: Shot in his jail cell by the possessed Clarence Felder.
Bulletproof (1988) [Sharkey]: Killed in an explosion when a grenade goes off in the vehicle.
Guns (1990) [Tong]: Crushed to death when a railing falls on him. 
The Last Hour (1991) [Spider]: Crushed to death when he is on the roof of the elevator to kill Michael Paré and Bobby Di Cicco, after being shot in the left foot by Michael.
Sex Crimes (1992) [Palmer]: Shot straight in the head by a topless prostitute while in bed.
Love, Cheat & Steal (1993) [Cuban]: Head bashed in repeatably by Eric Roberts, while everyone in the bar looks on in shock.
The Stranger (1995) [Hawk]: Neck snapped after hitting the gas pump tubing while riding his motorcycle.
From Dusk Till Dawn (1996)' [Charlie 'Razor Charlie]: Stabbed in the chest with a wooden pool cue by Tom Savini; his body melts into nothingness (leaving only his eyeballs) as he dies. 
Point Blank (1998) [Wallace]: Stabbed in the stomach at the end of a fight with Mickey Rourke.
Nightstalker (2002) [Frank Luis]: Dies of his gunshot wounds while talking to Roselyn Sanchez.
Halloween (2007) [Ismael Cruz]: Hit on the head with a television set by Tyler Mane, after Tyler throws him against the walls and repeatedly dunks his head in a sink. 
Alone in the Dark II (2008) [Perry]: Killed by supernatural forces.
Necessary Evil (2008) [Barro]: Stabbed in the neck with a needle by one of the protagonists.
The Line (2009) (La Linea) [Mario]: Shot repeatedly in the stomach and chest alongside his cohorts during a shootout with Ray Liotta.
The Lazarus Papers (2010) [Aroon]: Commits suicide by jumping off a building. He continually comes back to life and repeats these efforts three times despite not knowing that he is cursed with immortality and all his efforts to end his life are in vain.
Boston Girls (2010) [Uncle Reggie]: Shot to death at the stadium.
Shadow in Paradise (2010) [Matador]: Shot in the head after a fight with Mark Dacascos.
Recoil (2011) [Drayke Salgado]: Shot to death by Lochlyn Munro as Danny is about to kill Steve Austin at the end of a fight with a machete.
Haunted High (2012) [Ortiz]: Stabbed to death by a possessed Jonathan Baron. He later comes back as a ghost to save Baron and Lauren Pennington from M.C. Gainey's demonic spirit.
Zombie Hunter (2013)[Jesús]: Decapitated by a giant zombie monster, while the survivors look on.
The Book of Life (2014; animated) [Skeleton Luis]: Dies off-screen in a bullfight years before the story begins; his death is revealed in a flashback and he later appears as a soul in The Land of the Remembered when Diego Luna arrives.
The Burning Dead (2015) [Night Wolf]: Possibly bitten or eaten (off-screen) after being attacked by a zombie. The film cuts to end credits leaving his fate open.
1st Strike (2016) [Manny Garcia]: Killed in a car crash after another vehicle smashes into him and Johnny Ortiz's car.
Map of Hell (2016) [Himself]: Died in a motorcycle accident (off-screen), body shown.
Dead Again In Tombstone (2017) [Guerrero]: Shot in the chest multiple times by Jake Busey, while Elysia Rotaru watches in horror. He dies in Elysia's arms, but soon is resurrected.
Murder in the Woods (2017) [Sheriff Lorenzo]: Shot to death by José Julián with a sniper.
Juarez 2045 (2017) [Angel Malvado]: Machine gunned to death by Alexander P. Heartman.  
Fury of the Fist and the Golden Fleece (2018) [Nino Grande]: Beaten and sliced to death by Cynthia Rothrock.
Silencer (2018) [Trejo]: Stabbed in the heart with a knife thrown by Johnny Messner.  
3 from Hell (2019) [Rondo]: Shot in the head by Bill Moseley as a revenge for the things happened in Ken Foree's Brothel in The Devil's Rejects.
Bullets of Justice (2019) [Grave-digger]: Killed by a pig-human in his home.
The Protector (2020) [Francesco]: Shot in the chest by Ed Morrone during a shoot out.
The Spongebob movie: sponge on the run (2020) [El Diablo] scorched when Tom Kenny and Bill Fagerbakke open up the blinds, revealing him to the sunlight. He comes back as a tornado, but disappears when he tries to grab Tom and Bill (possibly also Awkwafina but that's up for debate)
TV Deaths
[
]
Nash Bridges: Internal Affairs (1996) [Sid Benedict]: Shot to death by Don Johnson.
Renegade: Hog Calls (1996) [Freddie]: Garroted by Mike Moroff.
Blood Ties: Wrapped (2008) [Pacha Kamaq]: Stabbed in the chest by Christina Cox; he then rapidly ages and crumbles into dust.
Breaking Bad: Negro y Azul (2009) [Tortuga]: Decapitated with a machete (off-screen) by Daniel Moncada and Luis Moncada; his severed head is shown afterwards when Dean Norris and other DEA officers discover it in the desert on the back of a tortoise before a bomb destroys it. His actual death is shown in the episode IFT. 
Rize of the Zombies (2012; TV movie) [Captain Caspian]: Shot to death by one of the lead protagonists after Danny has turned into a zombie.
Teenage Mutant Ninja Turtles: When Worlds Collide (2017) [Newtralizer]: His body overloads after falling into the core of his ship and likely perished alongside Peter Stormare when their ship exploded.
3Below: Tales of Arcadia: Luug's Day Out (2019) [Tronos Madu]: Killed by

Alon Abutbul

after his failure in capturing the royals.
Victor & Valentino: La Cucarachita/Lords of Ghost Town (2020) [Paco]: Plays a leader of the "Lords of Ghost Town" who died sometime before the events of the episode.
Deaths in Video games:
[
]
Def Jam Fight for NY (2004) [Danny Trejo]: Thrown into oncoming subway train by either of the characters that player decides to play as.
Music Video Deaths 
[
]
"Open Your Eyes" (2012) [The Man]: Slashed to death with a chainsaw after Devanny Pinn drops it on him while Trejo is lying in an open grave.
"Whistle Dixie" (2012) [Dead body]: Appearers as a dead body in the morgue. 
David Guetta & Sia: Flames (2018) [The Master]: Stabbed to death by samurai swords, while

Courtney Chen

looks on in horror. He appears as a spirit to her afterwards during combat. 
Tyga, YG & Carlos Santana: "Mamacita" (2019) [Self]: Likely killed in a fire (off-screen) after a bar brawl; before Trejo is knocked out by Tyga.
Gallery
[
]