Wiki Targeted (Entertainment)
Play Sound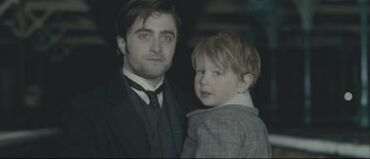 Daniel Radcliffe (1989 - )
December Boys (2007) [Maps]: Dies (off-screen) under unspecified circumstances, during the passage of time between the main story and the epilogue scene; his ashes are shown when his friends (Max Cullen, Michael Norman, and Mike Welton) scatter them on the beach.
My Boy Jack (2007) [John Kipling]: Killed during the Great War.
Harry Potter and the Deathly Hallows: Part 1 (2010) [Harry Potter/Riddle Harry]: Daniel plays dual role of Harry Potter and an evil version of Harry Potter when Rupert Grint tries to destroy a horcrux. The evil doppelganger makes out with Emma Watson to make Rupert jealous. However, this only causes Rupert to get furious and to smash the horcrux, destroying both Daniel's and Emma's evil doppelgangers. ("Harry Potter" survives in this movie).
Harry Potter and the Deathly Hallows: Part 2 (2011) [Harry Potter]: Is temporarily in a state between life and death after Ralph Fiennes uses the Avada Kedavra curse on him (inadvertantly destroying the fragment of Ralph's own soul inside Daniel, rather than killing Daniel outright); he returns to life after having a conversation with Michael Gambon's spirit. (It's debatable whether or not this counts as a death scene, but it's listed just in case.)
Horns (2013) [Ig Perrish]: Stabbed multiple times with a pitchfork and shot several times with a shotgun by Max Minghella; he dies after killing Max while being held in his brother's (Joe Anderson) arms, with his body then turning to stone and breaking apart. (Radcliffe was in heavy devil make up for this scene)
Swiss Army Man (2016) [Manny]: Plays a talking corpse who dies (off screen) before Paul Dano discovers him washing up on shore.
Community content is available under
CC-BY-SA
unless otherwise noted.