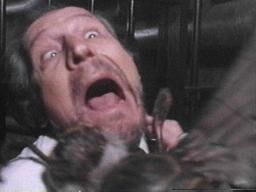 Daniel J. Travanti (1940-)
Midnight Crossing (1988) [Morely Barton]: Shot to death by Faye Dunaway.
Murder in My House (2006 TV) [Stan Douglas]: Murdered by Gary Hudson when he begins to uncover that Gary was behind the death of Sean Orr years prior; his body is later discovered by his daughter, Barbara Niven.
The Wasp Woman (Forbidden Beauty) (1995; TV film) [Dr. Zinthorp]: Killed by a mutant cat/wasp creature while searching for it in an underground tunnel.
NCIS: Los Angeles: No More Secrets (2019) [Nikita Aleksandr Reznikov]: Dies (off-screen) of lung infection caused by chlorine gas. We last see him crying over his daughter Amy Callen's (Lily O'Donnell) grave before seeing his headstone an undetermined amount of time later.
Community content is available under
CC-BY-SA
unless otherwise noted.