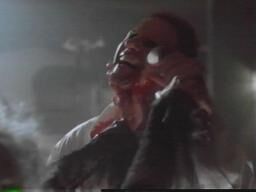 Dan Woren (1952 -)
a.k.a. Jackson Daniels or Warren Daniels
The Granny (The Matriarch) (1995) [Lenny]: Slashed to death with a bone-saw by Stella Stevens after she comes back to life in the mortuary, while Teresa Ganzel looks on in horror.
Mobile Suit Gundam I (1999; anime) [Denim]: Killed when Amuro (Michael Lindsay) stabs his Zaku's cockpit with the Gundam's beam saber.
Ace Combat 7: Skies Unknown (2019) [Vincent Harling/Colonel D. McKinsey]: Harling was killed inside his personal V-22 Osprey by Erusean drones while trying to fly towards the International Space Elevator. McKinsey survives. (Note: Dan previously provided Harling's voice in Ace Combat 5: The Unsung War; the character does not speak in this game, but I'll list it regardless).
Community content is available under
CC-BY-SA
unless otherwise noted.