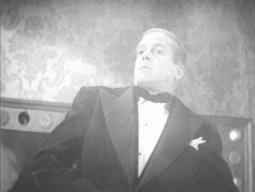 Dan Duryea (1907 - 1968)
Film Deaths:
Sahara (1943) [Jimmy Doyle]: Crushed to death, along with Richard Nugent by falling rubble when the Nazis shell the fortress where Richard is treating Dan's wounds.
Ministry of Fear (1944) [Agent Cost a.k.a. Travers the tailor]: Commits suicide by stabbing himself in the stomach with his tailor's shears, rather than be arrested as a spy. (Thanks to Brian)
The Woman in the Window (1944) [Heidt/Tim the doorman]: "Heidt" is shot to death by police; the whole story turns out to be Edward G. Robinson's dream and Dan turns up in reality as the doorman at Edward's club. (Thanks to Constantine)
Along Came Jones (1945) [Monte Jarrad]: Shot in the head by Loretta Young, just as Dan is about to kill Gary Cooper. (Thanks to Harry)
The Great Flamarion (1945) [Al Wallace]: Deliberately shot in the chest by Erich von Stroheim during Erich's trick-shooting stage act, making it look like an accident.
Main Street after Dark (1945) [Posey Dibson]: Shot to death when his gun goes off during a struggle with Tom Trout.
Scarlet Street (1945) [Johnny Prince]: Executed (off-screen) in the electric chair, after being falsely convicted of killing Joan Bennett. We only see him being led into the chamber, the actual execution is not depicted.
Too Late for Tears (1949) [Danny Fuller]: Poisoned by Lizabeth Scott when she pours poison in his whiskey. (Thanks to Harry)
One Way Street (1950) [John Wheeler]: Shot to death by William Conrad; he dies shortly afterwards.
Winchester '73 (Montana Winchester) (1950) [Waco Johnnie Dean]: Shot to death in a gunfight with James Stewart. (Thanks to Gordon)
Ride Clear of Diablo (The Breckinridge Story) (1954) [Whitey Kincaid]: Shot to death in a shoot-out with Paul Birch, Jack Elam and William Pullen, when Dan runs out of the saloon to draw their fire away from Audie Murphy. (Thanks to Brian)
Silver Lode (1954) [Ned McCarthy]: Shot in the chest with his own bullet when Dan fires at John Payne and his shot ricochets off the church bell. (Thanks to Gordon)
Platinum High School (Rich, young and deadly, Trouble at sixteen) (1960) [Major Redfern Kelly]: Killed in an explosion after Mickey Rooney douses the boat in gasoline and ignites it.
Six Black Houses (1962) [Frank Jesse]: Shot to death in a shoot-out with Audie Murphy. (Thanks to Brian)
Taggart (1964) [Jason]: Crushed to death by the stolen gold after Tony Young shoots Dan's horse out from under him.
The Bounty Killer (1965) [Willie Duggan]: Shot by a young bounty hunter (Peter Duryea) as Dan is kissing Carole Ridgeway. (Thanks to Brian)
The Bamboo Saucer (1968) [Hank Peters]: Shot to death in a shoot-out with Chinese soldiers.
Television Deaths:
Rawhide: Incident with a Executioner (1959) [Jardin]: Killed in a showdown with Eric Fleming. This death could be ruled as a suicide because Dan played a hired gun that was incredibly fast and it was unlikely Eric could have won unless Dan wanted it.
The Jack Benny Program: Lunch Counter Murder (1960) [Gangster]: Shot in the chest by Jack Benny after Dan runs out of bullets while holding up Jack's diner; he launches into a lengthily, historic dying speech until Jack shoots him in the chest once again to shut him up. (Played for comic effect)
Noteworthy Connections
Gallery
Community content is available under
CC-BY-SA
unless otherwise noted.