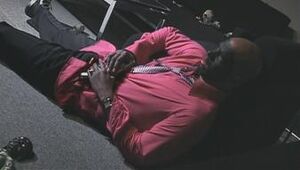 Damon Wayans (1960 - )
Bamboozled (2000) [Pierre Delacroix]: Shot in the stomach during a struggle with Jada Pinkett Smith when she tries to force him to watch a videotape she made; he dies shortly afterwards while watching the tape. (Thanks to Tommy).
Saturday Night Live (Nov. 9, 1985) [Yuppie]: In the "Where You're Going" commercial parody, he dies off-screen of unspecified circumstances, along with the other yuppies. They are seen burning in Hell. (Played for comic effect.)
Saturday Night Live (May 24, 1986) [Himself]: Burned to death, alongside most of the cast and crew, when Billy Martin douses the room with gasoline and lights it on fire before the good-nights. Everyone can be seen running and screaming around the smoky room as the credits roll in a cliff-hanger parody. They don't die on-screen, but their fates are clear. This lampoons the season 11's (1985-86) cast which was not well-received and criticized for not gelling together into a comedic ensemble. Only Jon Lovitz, Nora Dunn and Dennis Miller would make it back to the next season. (Played for comic effect.)
In Living Color (Oct. 20, 1991) [Father of Handiman/Handiman/Various]: In "The Adventures of Handiman", the "Father of Handiman" (a parody of Jor-el) was killed in an explosion when the planet Palsy explodes, right after he sends "Handiman" on a rocket wheel chair to Earth. He appears to "Handiman" in holographic form telling him about the destruction of his home planet. ("Handiman" and Damon's other characters survive.) (Played for comic effect.)
Community content is available under
CC-BY-SA
unless otherwise noted.