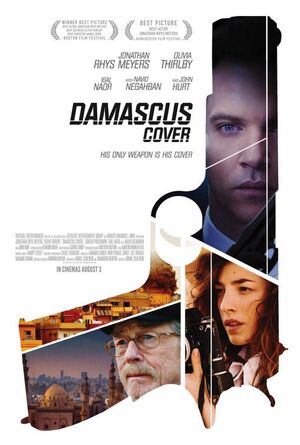 Damascus Cover (2017)
directed by Daniel Zelik Berk, from a screenplay by Berk and Samantha Newton
In 1989 Syria; Broken Mossad Operative Ari Ben-Sion (Jonathan Rhys Meyers) is still reeling from losing his child, coupled with failing to save a coworker in a botched operation, meaning he is losing himself, as he slips deeper into his cover as German rug salesman Hans Hoffman. But worse seems to come when he discovers he is being used in a mission that isn't what it looks like and seems set to fail. Caught up in this cycle of betrayal with no one to rely on, he wonders if he cannot even trust his weathered head of Israeli Intelligence and clandestine operations director Miki (John Hurt) or USA Today journalist Kim (Olivia Thirlby).
This proved to be Hurt's final film appearance after his death, and the film was dedicated to his memory.
It is based upon the 1977 novel of the same name, by Howard Kaplan
Community content is available under
CC-BY-SA
unless otherwise noted.