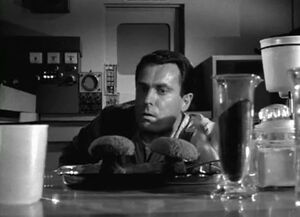 Dabney Coleman (1932 - )
Black Fist (1974) ["Heineken"]: Left to freeze to death in a meat locker dangling on a hook after being abducted by Richard Lawson.
9 to 5 (1980) [Franklin Hart]: Possibly killed by Amazons after they abduct him (off-screen); some on-screen text at the end of the film mentions that he is never heard from again. He is also killed in three fantasy segments; when he is shot and his head mounted by Jane Fonda, when he is tied up and suspended over a campfire by Dolly Parton, and when he is poisoned and ejected out of a window by Lily Tomlin.
Cloak & Dagger (1984) [Hal Osborne/Jack Flack]: Playing two characters including who is fictional, "Jack Flack" fades from existence after being shot by Michael Murphy, due Henry Thomas breaking the rules of not wanting to play anymore, his voice is heard the last time when he tells Henry to go save Christina Nigra, Henry even attempts to summon him. Hal (also played by Dabney) pretends to be him while trying to save Henry from John McIntire and Jeanette Nolan. Hal survives after escaping from the plane before it explodes.
Domino (2005) [Drake Bishop] Shot to death by Stanley Kamel along with Peter Jacobson at top of Dabney's hotel because Stanley thought Dabney was responsible for the death of his son. (His son was in fact still alive.)
The Outer Limits: Specimen: Unknown (1964) [Lt. Rupert Howard]: Poisoned by one of the space flowers when it sprays a mist into his face; he dies after getting rid of it (but before he can get rid of the others).
Community content is available under
CC-BY-SA
unless otherwise noted.