Spider-Man: No Way Home Trailer Dropped - The Loop
Play Sound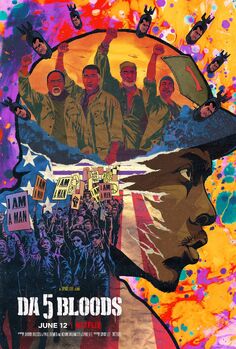 Da 5 Bloods (2020)
Director: Spike Lee
Plot
[
]
Four African-American vets (Delroy Lindo, Clarke Peters, Norm Lewis and Isiah Whitlock Jr.) battle the forces of man and nature when they return to Vietnam seeking the remains of their fallen Squad Leader (Chadwick Boseman) and the gold fortune he helped them hide.
Male Deaths
[
]
Female Deaths
[
]
Trivia
[
]
"Da 5 Bloods" is Spike Lee's first feature length film for Netflix.
Delroy Lindo played an African American soldier in the Vietnam War in

More American Graffiti (1979)

. In fact, a photo of Lindo from that movie is used in this movie, showing him in Vietnam war attire.
According to an interview with Giancarlo Esposito he was in talks to be cast alongside Samuel L. Jackson, Denzel Washington, and John David Washington; however due to scheduling conflicts, it fell apart.
The Apocalypse Now (1979) references are numerous: a featured nightclub is named after (and shows the artwork for) the classic film; and the famous Wagner piece "Flight of the Valkyries" also plays during a scene in which the men are traveling on a boat going down the river, just as they do in "Apocalypse Now", which is also a reference to Joseph Conrad's book "Heart of Darkness".
This was the final film of Chadwick Boseman to be released in his lifetime. He has one other Netflix film to be released later in 2020: Ma Rainey's Black Bottom (2020). And Chadwick worked on both films while undergoing treatment for the colon cancer that ended his life.
The five "Bloods" that were seen throughout the movie in present day scenes were named Paul, Melvin, Otis, Eddie, and David. These are also the individual names of the five members of African American vocal group The Temptations. Their fallen "Blood", who was the leader and inspiration for the others during their days in the Vietnam War, was named Norman. Songwriter Norman Whitfield produced virtually all of The Temptations' music during their time at Motown Records during the 60s and 70s.