(35 intermediate revisions by 12 users not shown)
Line 1:
Line 1:
−

[[File:Craigtnelson.jpg|thumb|300px|Craig T. Nelson in 'Action Jackson']]

+

[[File:Craigtnelson.jpg|thumb|300px|Craig T. Nelson in 'Action Jackson']]

 

[http://www.imdb.com/name/nm0005266/ Craig T. Nelson] (1944 - )

 

[http://www.imdb.com/name/nm0005266/ Craig T. Nelson] (1944 - )

 
 
 
+

Not to be confused with [[Craig Richard Nelson]]

⚫
 
⚫
 
 
 
 
⚫
⚫
 
 
⚫
⚫
 
 
 
 
+

* '''''Flesh Gordon''''' '''(1974)''' [''The Monster'']: Providing the voice of a monster (done with stop-motion animation), he is killed in an explosion when he falls from the tower and lands on [[William Dennis Hunt]]'s ray-gun, causing it to explode.

⚫
 
 
 
 
⚫
⚫
 
 
+
 
⚫
 
+
 
+

*'''''[[Gold (2016)|Gold ]]''[[Gold (2016)|(2016)]]''''' ''[''Kenny Wells Sr'']: Dies of a heart attack (off camera), we last see him talking too his son ([[Matthew McConaughey]]).

 
+
 
⚫
 
+
 
⚫
 
+
 
+

*'''''[[Parenthood (2010 series)|Parenthood: May God Bless and Keep You Always (2015)]]''''' [''Zeek Braverman'']: Dies of heart failure, with his wife ([[Bonnie Bedelia]]) by his side.

 
+
 
+

==Notable Connections==

 
+

*Mr. [[Doria Cook-Nelson]]

 
+

==Gallery==

 
+

{{DEFAULTSORT:Nelson, Craig T.}}

 

[[Category:Actors|Nelson, Craig T.]]

 

[[Category:Actors|Nelson, Craig T.]]

 

[[Category:Not Listed on Original Cinemorgue|Nelson, Craig T.]]

 

[[Category:Not Listed on Original Cinemorgue|Nelson, Craig T.]]

 
+

[[Category:Voice Actors]]

 

[[Category:American actors and actresses|Nelson, Craig T.]]

 

[[Category:American actors and actresses|Nelson, Craig T.]]

 

[[Category:1944 Births|Nelson, Craig T.]]

 

[[Category:1944 Births|Nelson, Craig T.]]

 
+

[[Category:The Groundlings Alumni]]

 

[[Category:Death scenes by shooting]]

 

[[Category:Death scenes by shooting]]

 
+

[[Category:Death scenes by virus]]

 

[[Category:Death scenes by suicide]]

 

[[Category:Death scenes by suicide]]

 

[[Category:Death scenes by vampire bite]]

 

[[Category:Death scenes by vampire bite]]

−

[[Category:The Groundlings Alumni]]

+

[[Category: ]]

 
+

[[Category:Death scenes by animal attack]]

 
+

[[Category:Death scenes by biting]]

 
+

[[Category:Death scenes by heart attack]]

 
+

[[Category:Death scenes by illness]]

 
+

[[Category:Emmy Award Nominees]]

 
+

[[Category:Emmy Award Winners]]

 
+

[[Category:Golden Globe Nominees]]

 
+

[[Category:Off-screen deaths]]

 
+

[[Category:Conservatives]]

 
+

[[Category:Actors who died in Roger Spottiswoode Movies]]

 
+

[[Category:Monk Cast Members]]

 
+

[[Category:People who died in a Monk series]]

 
+

[[Category:Death scenes by explosion]]

 
+

[[Category:Death scenes by shotgun]]

 
+

[[Category:Death scenes by burning]]

 
+

[[Category:Pixar Stars]]

 
+

[[Category:Death scenes by cannibalism]]

 
+

[[Category:Death scenes by internal bleeding]]

 
+

[[Category:Death scenes by blood loss]]

 
+

[[Category:Death scenes by falling]]

 
+

[[Category:Actors who died in a Craig R. Baxley movie]]

 
+

[[Category:Metro-Goldwyn-Mayer Stars]]

 
+

[[Category:Death scenes by female killer]]

 
+

[[Category:Death scenes by brainwashed character]]

 
+

[[Category:Actors who died in Richard Donner Movies]]

 
+

[[Category:My Name is Earl cast members]]

 
+

[[Category:Coach cast members]]

 
+

[[Category:Death scenes by ankle trauma]]

 
+

[[Category:Death scenes by foot trauma]]

 
+

[[Category:Death scenes by chest trauma]]

 
+

[[Category:Death scenes by stomach trauma]]

 
+

[[Category:Death scenes by head trauma]]

 
+

[[Category:Death scenes by organ trauma]]

 
+

[[Category:CSI: NY Cast Members]]

 
+

[[Category:Charlie's Angels Cast Members]]

 
+

[[Category:Satellite Award Nominees]]

 
+

[[Category:Actors who died in Stephen Gaghan Movies]]
---
Latest revision as of 04:43, 19 April 2020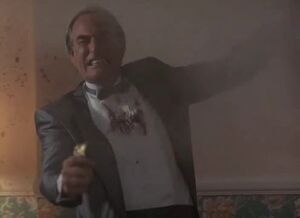 Craig T. Nelson (1944 - )
Not to be confused with Craig Richard Nelson
Flesh Gordon (1974) [The Monster]: Providing the voice of a monster (done with stop-motion animation), he is killed in an explosion when he falls from the tower and lands on William Dennis Hunt's ray-gun, causing it to explode.
Turner & Hooch (1989) [Chief Howard Hyde]: Shot in the chest and stomach with his own shotgun by Tom Hanks when Tom grabs the trigger during a struggle (having first been bitten on the ankle by the dog Hooch).
Community content is available under
CC-BY-SA
unless otherwise noted.