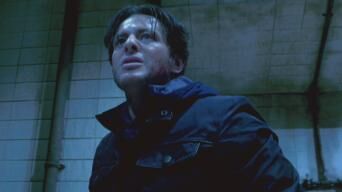 Costas Mandylor (1965 - )
Film Deaths
[
]
Triumph of the Spirit (1989) [Avram Arouch]: Killed (off-screen) by guards in a concentration camp; we learn of his death afterwards when Willem Dafoe hears about it from other inmates. (Thanks to Binky)
Virtuosity (1995) [John Donovan]: Electrocuted by Russell Crowe in a virtual-reality simulation, causing Costas to die of shock in reality. (Thanks to Binky)
Shelter (1998) [Nikos Kostantinos]: Shot repeatedly by John Allen Nelson after John grabs a gun from the bottom of a swimming pool.
Above and Beyond (2001) [Michael Amrosa] Accidentally shot and paralyzed by Adam Baldwin, Costas dies in his sleep of his injuries at the end of the film.
Saw: The Final Chapter (Saw 3D) (2010) [Mark Hoffman]: Presumably dies (off-screen) of starvation after Cary Elwes chains him up in a room, then locks him in after removing the saw so that Costas has no means of escape. (Although this was supposedly the final Saw film, the possibility still remains for Costas to be brought back if another sequel is made.) (Thanks to Tommy)
Five Thirteen (2013) [Sheriff O'Connor]: Shot in the throat by Cisco Reyes, as he was about to arrest

Malik Barnhardt

.
The Horde (2016) [Cylus Atkinson]: Killed in an explosion after Paul Logan ties him up, pours alcohol everywhere and lights the fuse, as revenge for his crimes.
Cosmic Sin (2021) [Marcus Bleck]:
TV Deaths
[
]
Falling for You (1995) [Paul Blankenship]: Falls to his death when he is pushed out/through a window (dying in the same way as all his victims) during a fight with Billy Dee Williams and

Jennie Garth

Andromeda: Be All My Sins Remembered (2002) [Bobby Jensen]: Electrocuted when Lisa Ryder touches a live wire to his leg. (Thanks to Binky)
Charmed: Saving Private Leo (2002) [Rick Lang]: Killed in an explosion, along with his brother (Louis Mandylor), when their position is bombed during the battle of Guadalcanal; he and Louis appear as ghosts throughout the episode, and are finally sent back to Hell when Holly Marie Combs casts a spell to get rid of them. (Thanks to David31, Philip, Jonathan, and Binky)
Notable Connections
[
]
Gallery
[
]