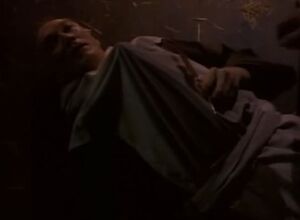 Colin Fox (1938 - )
Virus (Day of Resurrection) (Fukkatsu no hi) (1980) [Spy Z]: Dies when his plane crashes into the mountains and spreads the virus.
Friday the 13th: The Series: The Poison Pen (1987) [Le Croix/Rupert Seldon]: Impaled through the back by a guillotine blade when it flies toward him, after he unwittingly uses the cursed pen to write a curse on a invoice that he signed, while he is about to kill John D. LeMay, Louise Robey, Chris Wiggins, and Alan C. Peterson.
Friday the 13th: The Series: Tails I Live, Heads You Die (1988) [Sylvan Winters]: Crushed to death by falling debris when Satan causes the underground cavern to collapse, after John D. LeMay and Chris Wiggins trick Colin and the other cultists into resurrecting Louise Robey.
Tales from the Cryptkeeper: The Avenging Phantom/Myth Conceptions (1994) [Archeologist]:
Community content is available under
CC-BY-SA
unless otherwise noted.