Wiki Targeted (Entertainment)
Play Sound
Code Geass (TV series; 2006 - 2008)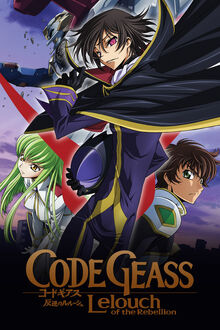 Summary
[
]
An exiled prince, posing as a high school student, gains a power called Geass from an immortal witch, while leading a rebellion as the masked viligante Zero in his fight to destroy the Holy Britannian Empire. 
Japanese Version
[
]
Male Deaths
[
]
Jun Fukuyama

(Lelouch vi Britannia)

Takahiro Mizushima

(Rolo Lamperouge)
Norio Wakamoto (Emperor Charles zi Britannia)

Nobuo Tobita

(Clovis la Britannia)

Masuo Amada

(Josui Kusakabe)

Takehiro Koyama

(Major-General Tatewaki Katase)

Yasuyuki Kase

(Kewell Soresi)

Kiyoyuki Yanada

(Andreas Darlton)

Soumei Uchida

(Bismarck Waldstein)

Shinpachi Tsuji

(Taizo Kirihara)

Masaharu Sato

(The Black King)

Yuji Mikimoto

(Viceroy Calares)

Kazato Tomizawa

(V.V.)

Ken Narita

(Joseph Fenette)

Takeshi Kusao

(Mao)
Issei Futamata (Kosetsu Urabe)
Yu Shimaka (Ryouga Senba)
Yukitoshi Hori (Commanding Officer)

Eiji Yanagisawa

(Britannian Officer)

Nobuaki Sekine

(Gao Hai)

Shiro Gou

(General Upson)

Katsuhisa Hoki

(Bartley Asprius)

Noriaki Sugiyama

(Bart L. Darlton)

Ryuzo Hasuike

(Alfred G. Darlton, Toru Yoshida)

Soichiro Hoshi

(David T. Darlton)

Mitsuaki Madono

(Edgar N. Darlton)

Atsushi Kisaichi

(Nagata, Shogo Asahina, Luciano Bradley)

Kazuki Ogawa

(Kinoshita)
Kazuhiko Kishino (Prime Minister Genbu Kururugi)

Jouji Nakata

(Diethard Ried)
Akio Suyama (Kizuna Kagesaki)
Female Deaths
[
]
Fumiko Orikasa

(Shirley Fenette)

Omi Minami

(Euphemia li Britannia)

Asako Dodo

(Marianne vi Britannia, The Nun)

Kikuko Inoue

(Naomi Inoue, Dorothea Ernst)

Yuko Goto

(Liliana Vergamon, Monica Krushevsky)

Masayo Kurata

(Marika Soresi)

Akira Watanabe

(Alicia Lohmeyer)
English Version
[
]
Male Deaths
[
]
Female Deaths
[
]
Unisex Deaths
[
]
Trivia
[
]
The English dub for Code Geass is the final one directed by Kevin Seymour, and the final one done by Animaze/ ZRO Limit Productions before Kevin's untimely death in 2014.
The timeline of Code Geass takes place in an apocryphal version of the 1960s, despite the more futuristic environment.
This is the final anime series in which Amy Kincaid did any voice acting, having previously done voiceover work for New Generation Pictures.