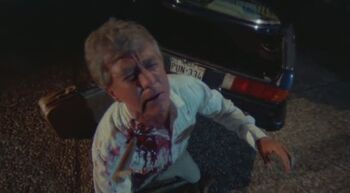 Clu Gulager (1928 - )
The Initiation (1984) [Dwight Fairchild]: Stabbed in the neck with a garden tool by Daphne Zuniga while standing next to his car at night.
The Return of the Living Dead (1985) [Burt]: Killed in an explosion (along with everybody else in the movie) when the military drops a nuclear bomb on the city in an attempt to stop the spread of the zombies. We only see quick cutaways of all the different characters before the explosion.
The Offspring (From a Whisper to a Scream) (1987) [Stanley Burnside]: Killed by a monster baby on the staircase; it's been a while since I've seen this movie, but I believe the scene ended as the baby leapt down the stairs to attack Clu.
Piranha 3DD (2012) [Mo]: Devoured along with Gary Busey by the piranhas in lake at night after they burn a dead floating cow, that's laying piranha eggs, causing all the eggs to hatch.
Mannix: The Man Who Wasn't There (1973) [Lyle Foster]: Shot to death by Mike Connors.
King (1978; TV Miniseries) [William Sullivan]: Accidently shot (off-screen), several years after the movie ends.
The Master: Max (Master Ninja I) (1984) [Mr. Christiansen]: Stabbed in the chest when Timothy Van Patten throws a shuriken at Clu in Clu's office. (Note: Master Ninja I is edited together from two separate episodes of the TV series The Master; Clu appears only in the first episode/half.)
Mr. Miriam Byrd-Nethery (widowed)
Father of John Gulager (director) and Tom Gulager
Community content is available under
CC-BY-SA
unless otherwise noted.