Cliff De Young (1945 - )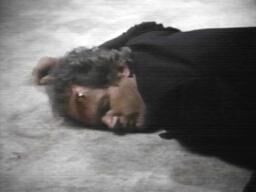 Independence Day (1983) [Les Morgan]: Killed in an explosion (along with Dianne Wiest), when a suicidal Dianne lights a match after filling their house with gas.
The Hunger (1983) [Tom Haver]: Drained of blood (off-screen) by Catherine Deneuve. (Thanks to Keenan)
Forbidden Sun (1989) [Professor Lake]: Gored to death by a bull. (Thanks to PortsGuy)
Carnosaur 2 (1995) [Tom McQuade]: Killed in an explosion when he deliberately sets off a charge in an attempt to destroy the raptors and give the others a chance to escape. (Thanks to PortsGuy)
The Craft (1996) [Mr. Bailey]: His death in a plane crash is reported in a TV news bulletin, but this turns out to be an illusion that the other girls have created in order to draw out Robin Tunney. (Since this is a hoax, I wasn't sure whether to list it, but since it's been suggested...) (Thanks to PortsGuy)
The Last Man on Planet Earth (1999) [John Doe]: Shot in the chest by Paul Francis when Cliff attempts to take Julie Bowen hostage. (Thanks to Stephen)
King (1978) [Robert F. Kennedy]: Shot by Sirhan Sirhan.
Robert Kennedy & His Times (1985 TV film) [John F. Kennedy]: Shot while riding in his motorcade. 
Beauty and the Beast: Dark Spirit (1987) [Alexander Ross]: Burned to death after being trapped in a burning building while trying to kill Linda Hamilton. (Thanks to Michael)
The X-Files: Pilot (1993) [Dr. Jay Nemman]:
Star Quest (Terminal Voyage) (1994) [Granier]: Commits suicide (along with Ming-Na Wen) by overdosing on morphine (off-screen); their bodies are shown when Brenda Bakke sees them through a monitor.
Timecop: Stalker (1997) [Det. Rick Nolte]: Shot in the chest with a laser blaster by Tom O'Brien.
Community content is available under
CC-BY-SA
unless otherwise noted.