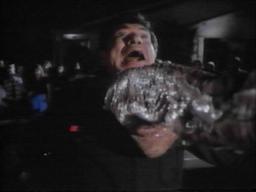 Claude Akins (1926 - 1994)
Film Deaths:
Edit
Man with the Gun (Deadly Peacemaker; The Trouble Shooter) (1955) [Jim Reedy]: Shot to death by Robert Mitchum after Claude pulls a hidden gun from his sombrero. (Thanks to Brian)
The Burning Hills (1956) [Ben Hindeman]: Shot in the back by Skip Homeier as Claude goes to open the door of Natalie Wood's cabin. (Thanks to Brian)
The Lonely Man (1957) [Blackburn]: Shot dead by Jack Palance as he pulls his gun when  he gets off his horse. (Thanks to Brian)
Comanche Station (1960) [Ben Lane]: Shot in the chest in a shoot-out with Randolph Scott. (Thanks to Brian)
A Distant Trumpet (1964) [Seely Jones]: Hacked to death with a tomahawk by a Native American warrior just as Claude is about to kill Troy Donahue. (Thanks to Brian)
Television Deaths:
Edit
The Rifleman: Strange Town (1960) [Bletch Droshek]: Shot to death by Chuck Connors.
Rawhide: Incident of the Lost Idol (1961) [Clete Manson]: Mortally wounded by Ken Curtis and K.L. Smith when Claude tries to shoot his way out of the cabin he was in. He dies moments after killing Ken and K.L. while talking to Eric Fleming.
Rawhide: The Sendoff (1961) [Karse]: Trampled to death by stampeding cattle during a lightning storm when he loses control of and falls off his wagon in front of the herd.
The Man From U.N.C.L.E. The Very Important Zombie Affair (1965) [El Supremo]: Dies of fright (seizure/cardiac arrest) when David McCallum shows him a voodoo doll with his photo on it which had been cursed by Maidie Norman. (Played for comedic effect) (Thanks to Brian)
Rawhide: Walk into Terror (1965) [Jerry Boggs]: Killed in an explosion along with Bruce Dern in a mineshaft, when he dropped something that was explosive.
Death Squad (1974 TV) [Connie Brennan]: Shot in a gunfight with Robert Forster.
Eerie, Indiana: The Hole in the Head Gang (1992) [Grungy Bill]: Appears as a ghost.
Community content is available under
CC-BY-SA
unless otherwise noted.