Welcome to Cinemorgue Wiki!
"Let's not bicker and argue about who killed whom..."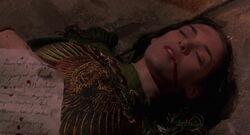 Cinemorgue Wiki is an encyclopedia that is dedicated to documenting which actors or actresses "died" in which movie or TV show. Having started as a separate website, the documentation effort proved to be too big a job for one person, so the wiki was born where everyone is allowed to submit their additions and corrections directly.
So if you've ever wondered "Has so-and-so ever done a death scene?" or "What's that movie where what'sisname kills such-and-such?", then this index will strive to answer those questions.
Do you know someone who has died on screen? Feel free to share your knowledge by adding that piece of information to the wiki. To add a new entry (whether actor, actress, or title), click the "Contribute" box in the upper right corner, and select "Add a Page" on the drop-down menu that appears. Ideally, the actor and actress pages should include a reference image from one of their death scenes (though sometimes no image is available, particularly if the film/TV show with the relevant scene is not on video/DVD).
If you'd rather not make changes directly, you can send an e-mail to cinemorgue@yahoo.com (for actress information) or cinemorgue2@yahoo.com (for actor information) and help to expand our ever-growing database of content!
Fandom's Community Central