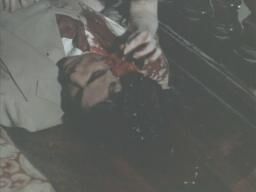 Chris Sarandon (1942 - )
The Sentinel (1977) [Michael Lerman]: Beaten to death with a small statue by Arthur Kennedy while Chris is trying to strangle John Carradine; we only hear the impact from off-camera. Chris' spirit later appears to Cristina Raines and talks to her for a while before revealing he's a ghost; his body is then shown when Cristina discovers the ghosts of Sylvia Miles and Beverly D'Angelo feasting on him. He "dies" once again when Satan (Burgess Meredith) orders the army of ghosts to return to Hell, punctuating the command by throwing a knife at Chris' throat. 
Cuba (1979) [Juan Pulido] Shot in the chest by a rebel while in his pool.
Fright Night (1985) [Jerry Dandridge]: Disintegrated by sunlight (when William Ragsdale rips down the curtains), turning into a skeleton (having been stabbed in the chest with a makeshift stake to no effect by Roddy McDowall). His skeleton then explodes into a ball of green fire. (Thanks to Robert) 
Collision Course (1989) [Philip Madras]: Killed in a car crash/explosion after Pat Morita makes a flying kick through the windshield of Chris' car and kicks Chris in the face crushing his head, as Chris tries to run down Pat and Jay Leno. (Thanks to ND) 
The Day Christ Died (1980; TV movie) [Jesus Christ]: Executed by crucifixion. (Thanks to Robert) 
A Tale of Two Cities (1980; TV movie) [Sydney Carton/Charles Darnay]: Playing a dual role, "Sydney Carton" is executed by the guillotine after taking "Charles Darnay's" place. (I haven't seen this version, but I'm familiar with the story.) (Thanks to Robert) 
The Stranger Within (1990; TV movie) [Dan]: Drowned after Rick Schroder throws hot chocolate in his face and pushes him into the water while they're out ice-fishing. (Thanks to Robert) 
Race Against Time (2000; TV movie) [Dr. Anton Stofeles]: Falls to his death from the hospital roof at the end of a struggle with Eric Roberts. His body is shown again afterwards when Diane Venora finds him. (Thanks to ND) 
Ex-husband of Susan Sarandon
Husband of Joanna Gleason
Community content is available under
CC-BY-SA
unless otherwise noted.