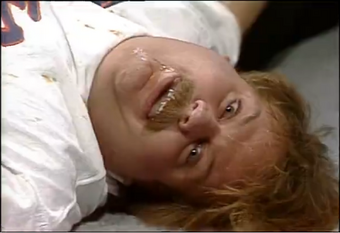 Chris Farley (1964 - 1997)
Film Deaths
Edit
None ('lived' in all his films)
TV Deaths
Edit
NOTE: Since Farley plays multiple characters on Saturday Night Live, only the specific roles that die are listed. Most are obviously played for comic effect.
Saturday Night Live: Tom Arnold/Neil Young (Dec. 5, 1992): [Todd O'Connor]: In the "Superfans in the Hospital" sketch, he is dead for a few moments after having a heart attack. He goes out of his body and sees a portal of light where he sees deceased family members and Mike Ditka. He would then be brought back to life with Mike Myers and Robert Smigel by his side.
Saturday Night Live: Kevin Kline/Willie Nelson/Paul Simon (May 15, 1993): [Harley McDougal]: Stabbed to death (off-screen) by Rob Schneider in "Schiller's Reel - Criminal Encounter". We learn of his death through the end title card.
Saturday Night Live: John Malkovich/Billy Joel (Oct. 23, 1993): [Lenny/Chris Farley]: Chris Farley, after the Of Mice and Men sketch "ends" where he plays Lenny, get shot in the back of the head by Lorne Michaels, after bing distraught over him accidentally killing Jan Hooks during the sketch. His death is just like the ending to Of Mice and Men.
Saturday Night Live: John Travolta/Seal (Oct. 15, 1994): [Hitman #1]: Shot to death, alongside Chris Elliott, by the Sweathogs in the "Quentin Tarantino's Welcome Back, Kotter" sketch.
Saturday Night Live: John Turturro/Tom Petty & the Heartbreakers (November 19, 1994): [??]: Shot in the head partially off-screen by Adam Sandler (If I'm remembering correctly).
Saturday Night Live: Courteney Cox/Dave Matthews Band (Apr. 15, 1995): [Hot Dog Vendor]: In the "Good Morning, Brooklyn" sketch, he is beaten to death by Molly Shannon in the "Beatin' of the Week" segment as reparations for insulting Adam Sandler off-screen.
Saturday Night Live: David Duchovny/Rod Stewart (May 13, 1995): [Chris Farley]: Mauled to death by a polar bear after jumping into the Polar Bear pit in "the Polar Bear Sketch". He is killed off-screen with him screaming and his blood gushing on-screen all over Norm MacDonald.
Saturday Night Live: Chris Rock/The Wallflowers (November 2, 1996): [B-Fats]: Farley does not appear in this episode, but is mentioned by Chris Rock to have died in a drive-by shooting after converting to Islam in the I'm Chillin' sketch.
Notable Connections
Edit
Brother of Kevin Farley and John Farley.
Community content is available under
CC-BY-SA
unless otherwise noted.