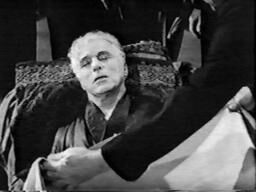 Charlie Chaplin (1889 - 1977)
a.k.a. Charles Chaplin
Director/writer/composer
The Face on the Bar Room Floor (1914) [Artist]: Possbly dies of drink while trying to draw the face of the woman that left him. (While the film suggests he passes out, the poem ends with the artist dying.) 
Sunnyside (1919) [Farm Handyman]: In a dream sequence, he commits suicide by standing in the path of an oncoming car; he wakes up just before the impact. (He survives the movie in reality.)
The Kid (1921) [A Tramp]: Shot to death by a policeman in a dream sequence. (Again, he survives the movie in reality.) (Thanks to Joseph)
Monsieur Verdoux (1947) [Henri Verdoux]: Executed (off-screen) by the guillotine. The movie opens with a shot of his tombstone as he begins narrating from beyond the grave, then ends as he is being led to the guillotine.
Limelight (1952) [Calvero]: Dies of a heart attack backstage at the theatre, after completing his comeback performance.
Community content is available under
CC-BY-SA
unless otherwise noted.