Charles Laughton
(1899 - 1962)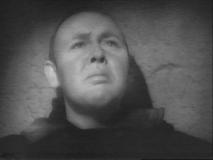 Film Deaths
Devil and the Deep (1932) [Commander Charles Sturm]: Drowned after being trapped in the sinking submarine.
Island of Lost Souls (1933) [Dr. Moreau]: Tortured to death (off-screen) by his creations (led by Bela Lugosi); we only hear him screaming as they close in on him.
White Women (1933) [Horace H. Prin]: Stabbed to death with spears (off-screen) by the natives.
Les Miserables (1935) [Inspector Javert]: Commits suicide (off-screen) by drowning himself in the river; we only see his cape afterwards.
Jamaica Inn (1939) [Sir Humphrey Pengallan]: Commits suicide by jumping off the mast of a ship.
This Land is Mine (1943) [Albert Lory]: Executed (off-screen) by a firing squad, shortly after the end of the film; the movie ends with him being led out to the wall.
The Canterville Ghost (1944) [Sir Simon de Canterville, the Ghost]: Suffocated by being walled up in an alcove in the castle; he appears as a ghost through out the movie.
Passport to Destiny (Passport to Adventure) (1944) Hit by a truck (off-screen) sometime before the movie begins; he only appears in photographs in Elsa Lanchester's home.
Arch of Triumph (1948) [Ivon Hawke]: Beaten to death by Charles Boyer.
The Big Clock (1948) [Earl Janoth]: Falls to his death down an elevator shaft.
The Strange Door (1951) [Alain de Maletroit]: Crushed to death when he falls into the machinery which operates the sliding-wall deathtrap, at the end of a struggle with Boris Karloff.
Young Bess (1953) [King Henry VIII]: Dies of an unspecified illness. (The exact cause of Henry VIII's death has been debated by historians, with syphilis and diabetes being two of the most common theories.)
Notable Connections
Community content is available under
CC-BY-SA
unless otherwise noted.