Charles Bickford (1891 - 1967)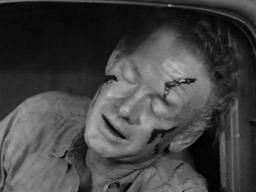 The Squaw Man(The White Man) (1931) [Cash Hawkins]: Shot to death by Lupe Velez just as Charles is about to shoot Warner Baxter.
Song of the Eagle (The Beer Baron) (1933) [Joe 'Nails' Anderson]: Shot to death by Louise Dresser in his office, after she learns that Charles killed Jean Hersholt.
The Plansman (1936) [John Lattimer]: Shot to death in a shoot-out with Gary Cooper.
Daughter of Shaghai (Daughter of the Orient) (1937) [Otto Hartman]: Shot to death by one of the refuges while Charles is struggling with Anna May Wong on the smuggler's boat.
Duel in the Sun (1946) [Sam Pierce]: Shot to death by Gregory Peck in a saloon. (Thanks to Mack)
Brute Force (1947) [Gallagher]: Fatally injured when he deliberately rams a burning truck into the prison gates during a jailbreak; he dies shortly afterwards while watching Burt Lancaster storm the guard tower.
Johnny Belinda (1948) [Black Macdonald]: Falls over a cliff and into the water below during a fight with Stephen McNally. His body is shown afterwards lying in his home while his daughter (Jane Wyman) leads a prayer in sign language.
The Last Posse (1953) [Sampson Drune]: Shot by John Derek as Charles goes to finish off the mortally wounded Broderick Crawford. (Thanks to Brian)
Not as a Stranger (1955) [Dr. David W. Runkleman]: Dies of a ruptured aorta during heart surgery while Robert Mitchum operates on him.
The Big Country (1958) [Major Henry Terrill]: Shot to death in a shoot-out with Burl Ives in a canyon; he manages to shoot Burl in turn before dying. (The duel is shown from a great distance from overhead). (Thanks to Jeff)
Community content is available under
CC-BY-SA
unless otherwise noted.