Catriona MacColl (1954 -)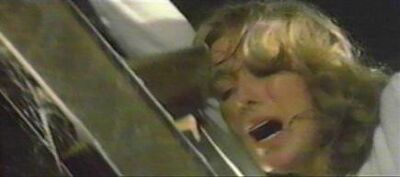 a.k.a. Katherine MacColl
City of the Living Dead (Paura nella citta dei mart viventi; The Gates of Hell) (1980) [Mary Woodhouse]: Apparently dies of shock after making contact with an evil force during a seance. She later wakes up in her coffin and is rescued by Christopher George, then continues living for the rest of the movie. It's ambiguous whether she was only in a deathlike trance, or whether she really did die and was brought back to fight the evil.
The House by the Cemetery (Quella villa accanto al comitero) (1981) [Lucy Boyle]: Hits her head repeatedly on the steps, when the zombie drags her down the staircase.
Dempsey And Makepeace: Hors de Combat (1985) [Angie Hughes]: Shot by Glynis Barber as she is driving away; her car eventually goes off the pier and into the water.
Community content is available under
CC-BY-SA
unless otherwise noted.