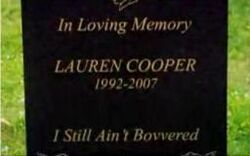 Catherine Tate
(1968 - )
Deaths in Film
Edit
None listed.
Deaths in Television
Edit
The Catherine Tate Christmas Show (2007) [Lauren Cooper/Various Characters]: "Lauren" is drowned when she goes over a waterfall while kayaking, after sarcastically dismissing the warnings from a townsperson on the riverbank. After she goes over the falls, her death is confirmed by a shot of her tombstone (with her sarcastic catchphrase as her epitaph). (Her other characters survive the special.)
Doctor Who: Turn Left (2008) [Donna Noble]: After a divergent timeline is created, she goes back in time and sacrifices herself by running in front of a truck in order to prevent her past self from making the wrong choice. She dies shortly afterwards while talking to Billie Piper, before the original timeline is restored in which she is still alive.
Community content is available under
CC-BY-SA
unless otherwise noted.