Wiki Targeted (Entertainment)
Play Sound
Carrie Keranen (1987- )
a.k.a. Carolyn Elizabeth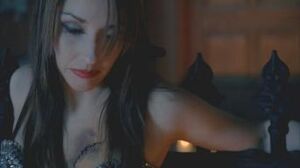 End of Evangelion (2019; anime) [Misato Katsuragi]: Blown up by JSSDF demolition crews after ushering Shinji (Casey Mongillo) onto the elevator leading to EVA Unit 01's launch bay. (For the PCB Productions' version of Misato's death, see Allison Keith).
Fringe: Inner Child (2009) [Kate Harper]: Killed (off-screen) by Jeremy Shamos; her body is shown afterwards posed on a fence when Kirk Acevedo and the other police investigate the scene.
Fate/Zero: Return of the Assassin (2013; anime) [Maiya Hisau]: Beaten savagely by Berserker (Kyle Herbert); she dies of her wounds with Kiritsugu (Matthew Mercer) by her side.
Fate/Zero: The Last Command Seal (2013; anime) [Maiya Hisau]: Throat slit by Kiritsugu (Matthew Mercer) in an illusion created by Aŋra Mainiiu.
Seven Deadly Sins: A Touching Reunion (2015; anime) [Guila]: Kills herself to enter the Capital of the Dead in order to pursue Meliodas (Bryce Papenbrook), Ban (Ben Diskin), Hawk (Cristina Vee) and Elizabeth (Erika Harlacher). Revived two episodes later.
Mobile Suit Gundam Iron-Blooded Orphans: The Final Lie (2016; anime) [Carta Issue]: Dies from injuries she received from her battle with Gundam Barbatos, piloted by Mikazuki Augus (Kyle McCarley).
Hunter × Hunter: A × Shocking × Tragedy (2017; anime) [Baise]: Whacked over the head with Blinky by Shizuku (Janice Kawaye).
Community content is available under
CC-BY-SA
unless otherwise noted.