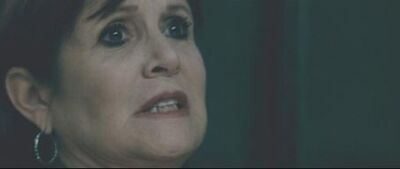 Carrie Fisher (1956 - 2016)
Film Deaths
The Time Guardian (1987) [Petra]: Impaled when she sacrifices herself by falling into the arms of a Jen-Diki.
She's Back (1989) [Beatrice]: Stabbed to death (off-screen) by Joel Swetow during a home-invasion/robbery. She appears as a ghost to Robert Joy throughout the rest of the movie.
Sorority Row (2009) [Mrs. Crenshaw]: Impaled through the back when Julian Morris uses a table to push her back onto the modified tire-iron that was stuck in the wall. (Thanks to Tommy and Kyle)
Star Wars Episode IX: The Rise of Skywalker (2019) [Leia Organa]: Died of excerting her power of the force as she attempts to contact Adam Driver during his fight with Daisy Ridley. Her body later vanished when Adam died after. (This film was entirely made after Carrie's real-life passing in 2016, her appearance consists of unused footage and cgi likeness)
TV Deaths
Frankenstein (1984; TV movie) [Elizabeth]: Presumably killed by David Warner. (I haven't seen this version, so I don't know how closely it follows the original story.)
A Nero Wolfe Mystery: Motherhunt (2002) [Ellen Tenzer] Strangled (off-screen) by Steve Cumyn and left on a fire escape; her body is shown in flashback when Saul Rubinek tells Timothy Hutton and Maury Chaykin about the murder.
It's Christmas, Carol! (2012; TV movie) [Eve Mailer]: Killed (off-screen) sometime before the events of the film when she is hit by a bus. Her ghost appears throughout the movie to Emmanuelle Vaugier.
Family Guy: Three Directors (2017; animated) [Angela]: Horizontally cut in half with a sword by Peter Griffin (voiced by Seth MacFarlane) in a parody of Lucy Liu's death in Kill Bill Vol. 1.
Family Guy: Pawtucket Pete (2018; animated) [Angela] Dies (off-screen) when she swam too soon after eating; her death is revealed during Peter Griffin's eulogy. (This episode was made after Carrie's real-life passing in 2016).
Notable Connections