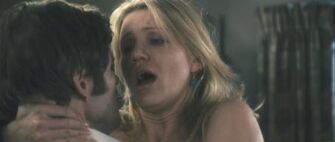 Cameron Diaz (1972 - )
The Last Supper (1995) [Jude]: Poisoned, along with the rest of her friends, after Ron Perlman switches the good wine with the poisoned wine they'd planned to give him. We only see a stylized painting of Ron standing over all the bodies.
The Invisible Circus (2001) [Faith]: Commits suicide by jumping off the ledge of a building on top of a cliff, after Christopher Eccleston tries to talk her out of it. Her body is shown afterwards being carried away on a stretcher by the villagers, although it's too distant to actually see her. Shown in a flashback when Christopher tells Jordana Brewster what happened
Vanilla Sky (2001) [Julie Gianni]: Two scenes: (1) Commits suicide by deliberately driving her car off a bridge. (2) "Smothered" with a pillow while making love with Tom Cruise. After she dies, he realizes that the body beneath him is actually Penelope Cruz. It's later revealed that events after the car crash were part of a lucid dream. (See also Najwa Nimri's death scenes in the original Spanish film Open Your Eyes.)
Shrek Forever After (2010; animated) [Fiona]: Voicing a princess in the alternate universe finale, she magically "dies" while gasping over the exposure of the sun. Her survival in reality is proven when Shrek (voice of Mike Myers) has finished roaring.
Community content is available under
CC-BY-SA
unless otherwise noted.