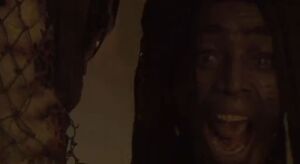 Calvin Lockhart (1934 - 2007)
The Beast Must Die (1974) [Tom Newcliffe]: Commits suicide (off-screen) by shooting himself in the head after getting bitten by the werewolf (Michael Gambon). We hear the shot from outside his house.
Predator 2 (1990) [King Willie]: Decapitated (off-screen) by the Predator (Kevin Peter Hall) at the end of a fight in an alley; his severed head is seen when Kevin is carrying it as a trophy.
None.
Community content is available under
CC-BY-SA
unless otherwise noted.