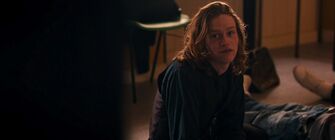 Caleb Landry Jones (1989 - )
Film Deaths
[
]
Byzantium (2012) [Frank]: Although Caleb is alive by the end of the film, it is implied that he will be drained of blood and turned into a vampire by Saoirse Ronan (off-screen) once they reach their island destination.
God's Pocket (2014) [Leon Hubbard]: Dies from head trauma after one of the construction workers hits him on the head with a brick.
Heaven Knows What (2014) [Ilya]: Burns to death when one of his lit candles falls on his bed while he is sleeping.
American Made (2017) [JB]: Killed in an explosion when a bomb inside Caleb's car detonates while he is driving away from Tom Cruise. 
Get Out (2017) [Jeremy Armitage]: Head bashed in during a fight with Daniel Kaluuya as Daniel tries to escape Caleb's house.
Television Deaths
[
]
Twin Peaks: Part 15 (2017) [Steven Burnett]: Commits suicide by shooting himself in the head (off-screen); we only hear Steven fire his gun and see Alicia Witt's reaction to hearing the gunshot.
Gallery
[
]