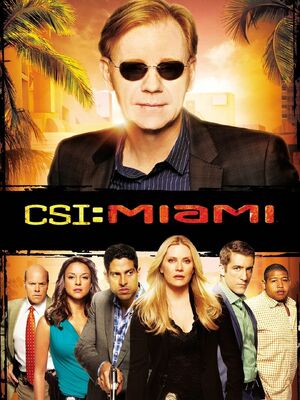 CSI: Miami (TV series; 2002 - 2012)
Plot Summary
Edit
The cases of the Miami-Dade, Florida police department's Crime Scene Investigations unit.
Male Deaths
Edit
Sam Anderson (Episode 1.01: Golden Parachute - Scott Sommer)
Daniel Arrias (Episode 3.07: Crime Wave, Episode 5.14: No Man's Land)
Sam Ball (Episode 3.01: Lost Son - Ken Timmons)
J. Downing (Episode 7.20: Wolfe in Sheep's Clothing

)
Chad Guerrero (Episode 6.11: Guerillas in the Mist) (Episode 10.18: Law and Disorder)
Ted King (Episode 8.15: Miami, We Have a Problem)
Paul Lacovara (Episode 7.13: And They're Offed) (Episode 7.25: Seeing Red)
J.R. May (Episode 7.10: The DeLuca Motel

)
Judd Omen (Episode 2.13: Blood Moon - Juan Marco Varon)
Ruben Pla (Episode 1.14: Forced Entry - Benito Ramon)
Female Deaths
Edit
Ayla Kell (Episode 7.3: And How Does That Make You Kill?

)
Gail O'Grady (Episode 7.3: And How Does That Make You Kill?

)
Nicole Randall (Episode 2.6: Hurricane Anthony

)

(Episode 6.18: Tunnel Vision

)
Community content is available under
CC-BY-SA
unless otherwise noted.