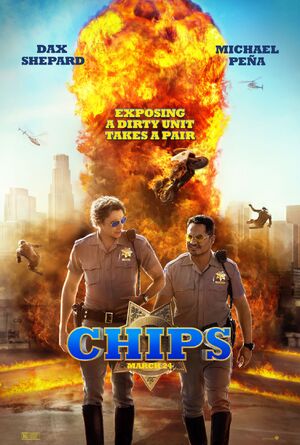 CHiPs (2017)
Written and directed by Dax Shepard
Based on the 1977-1983 television series of the same name created by Rick Rosner
Jon Baker (Dax Shepard) and Frank "Ponch" Poncherello (Michael Pena) have just joined the California Highway Patrol in Los Angeles, but for very different reasons. Baker is a former motorbike rider who's trying to put his life and marriage back together. Poncherello is a cocky, undercover FBI agent who's investigating a multimillion dollar heist that may be an inside job. Forced to work together, the inexperienced rookie and hardened veteran begin clashing instead of clicking while trying to nab those responsible leading them to dubious group of law enforcement indviduals.
Male Deaths
Edit
Female Deaths
Edit
Community content is available under
CC-BY-SA
unless otherwise noted.