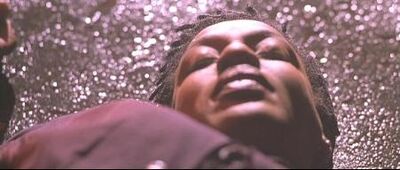 CCH Pounder (1952 - )
Deaths in Films
Edit
RoboCop 3 (1993) [Bertha]: Shot to death by corporate agents during their raid on the rebels' hideout (she dies while talking to Remy Ryan before collapsing).
End of Days (1999) [Detective Margie Francis]: Shot repeatedly, along with another cop, by Arnold Schwarzenegger in an alley, after she orders the other officer to kill Arnold. She is brought back to life by Gabriel Byrne's Satanic powers, but is shot again by Arnold when she confronts him in the cult headquarters; we hear the shot from off-camera, leading us to believe that she shot him, but then see her body fall to the ground when the scene cuts back.
Orphan (2009) [Sister Abigail]: Bludgeoned to death with a hammer by Isabelle Fuhrman as she is crawling away through the snow from her as Aryana Engineer looks on helplessly (Her body is later seen as Isabelle forces Aryana to drag Pounder to the river and throw her in, then again as police investigate).
Batman: Assault On Arkham (2014; animated) [Amanda Waller]: Shot in the head with a sniper rifle offscreen by Neal McDonough.
Deaths in Television
Edit
Lifepod (1993 TV) [Tech Mayvene]: Frozen to death (on top of a case of radiation poisoning) inside an insufficiently-shielded control room when the ship passes through the tail of a comet. Her body is shown on a video monitor afterwards when the other crew members check on her.
Community content is available under
CC-BY-SA
unless otherwise noted.