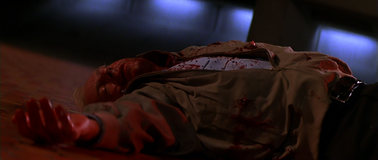 Walter Bruce Willis
(1955 - )
Film Deaths
Edit
Twelve Monkeys (1995) [James Cole]: Shot in the back by police in the airport, after he draws a gun in an attempt to stop David Morse from escaping with the virus.
The Jackal (1997) [The Jackal]: Shot repeatedly by Richard Gere in the subway station, after Bruce suddenly pulls his gun after being shot in the throat by Mathilda May. (The DVD includes an alternate ending in which Mathilda, not Richard, kills Bruce.)
Armageddon (1998) [Harry S. Stamper]: Killed in an explosion when he sacrifices himself by setting off the bomb to destroy the asteroid.
The Sixth Sense (1999) [Malcolm Crowe]: Shot in the stomach by Donnie Wahlberg in Bruce's bedroom. The movie initially leads us to believe that Bruce survived the shooting, but it's revealed at the end that he was killed and he's been a ghost throughout most of the movie.
Hart's War (2002) [Colonel William A. McNamara]: Executed by shooting in the head by the prison camp commander.
Charlie's Angels: Full Throttle (2003) [William Rose Bailey]: Shot in the right side of the head (off-camera) by Demi Moore in his jet; we only see the gun against his head, followed by the sound of the shot (with a close up of the bullet being fired, then goes right to M.C. Hamm's "you can't toucfh this" music video).
Sin City (2005) [John Hartigan]: Commits suicide by shooting himself in the head (shown as a negative-image "white silhouette") by the side of the road, in order to prevent Powers Boothe from using him to find Jessica Alba. (Willis reprised his role in the sequel Sin City: A Dame To Kill For as a ghost that watches over Alba.)
16 Blocks (2006) [Jack Mosley]: Although he survives the actual movie, the DVD includes an alternate ending in which he is shot in the chest by David Zayas.
Surrogates (2009) [Thomas "Tom" Greer]: Playing both a human and his robot avatar, Bruce's avatar is torn apart by a mob of humans. (His human form survives the film.)
Looper (2012) [Old Joe]: (1) Killed by his younger self (Joseph Gordon-Levitt) immediately after being sent back through time to be assassinated in one timeline. (2) After coming back into a second timeline and avoiding the first death, Bruce ceases to exist after his younger self shoots himself in the chest in order to stop Willis from killing Emily Blunt and her psychic son Pierce Gagnon.
The Prince (2014) [Omar]: Shot in the chest by Jason Patric.
Vice (2015) [Julian Michaels]: Shot repeatedly by Thomas Jane only to reawaken as an artificial robot himself in the last scene.
TV Deaths
Edit
The Late Show with David Letterman (2005; unknown episode) [Himself]: Jumps off a building when convinced that he's invincible (or something to that extent) while David Letterman and the audience watch in shock. (Played for comedic effect, obviously.)
Notable Connections
Edit