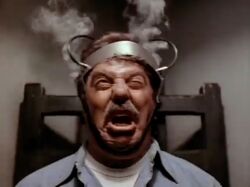 Bruce McGill (1950 - )
The Hand (1981) [Brian Ferguson]: Strangled by Michael Caine's disembodied hand (or by Michael Caine, depending on which interpretation of the film's events you prefer); his body is shown afterwards in the trunk of Michael's car along with Annie McEnroe's body.
Timecop (1994) [Matuzak]: Shot repeatedly in the chest and stomach by Ron Silver's military assassins as Bruce is sending Jean-Claude Van Damme back in time (Van Damme subsequently changes the past so Bruce doesn't die).
Law Abiding Citizen (2009) [Jonas Cantrell]: Killed in an explosion (along with his driver and bodyguards) after his van has first been shot repeatedly with a remote-controlled bomb disposal robot (modified into a gun platform) triggered by Gerard Butler.
Tales from the Crypt: The Trap (1991) [Luigi 'Lou' Paloma]: Executed in the electric chair, after faking his own death, assuming a new identity, and winding up being convicted of his own murder.
Spy Game: What Family Doesn't Have Its Ups and Downs? (1997) [Andrei Dupchek]: Knocked out of the open cargo hold of a plane when it's tail brushes against the water.
The Practice: Judge Knot (2002) [Judge Charles Fleming]: Commits suicide by shooting himself in the mouth.
Indiana Jones and the Infernal Machine (1999; video game) [CIA Agent Simon Turner]: Shot through the heart by Doug Lee after Bruce is revealed as a dirty agent.
Community content is available under
CC-BY-SA
unless otherwise noted.