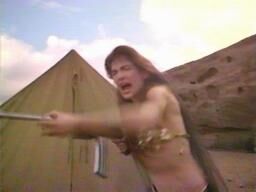 Brinke Stevens (1954 - )
The Slumber Party Massacre (Sleepless Nights) (1982) [Linda]: Killed with a power drill (off-screen) by Michael Villella in the empty school building. We only hear her screaming from another room. (Footage from this scene was used as a flashback in the 2003 movie Cheerleader Massacre, in which Brinke's character is also named "Linda" and recounts how she narrowly survived, but this appears to be an unrelated film rather than a sequel.)
Slave Girls from Beyond Infinity (1987) [Shela]: Shot in the back with a crossbow by Don Scribner while running through the woods.
Sorority Babes in the Slimeball Bowl-a-Rama (The Imp) (1988) [Taffy]: Torn in half (off-screen) by Carla Baron and Kathi O'Brecht after they each grab one end of her and pull. The upper half of her body is shown afterwards (the lower half is concealed by a wall) when Linnea Quigley discovers her.
Transylvania Twist (1989) [Betty Lou, the Vampire]: Poisoned when Ace Mask gives her a flask of holy water while she's sitting in his car with him.
Haunting Fear (1990) [Victoria Jameson]: Doesn't actually die, but has a lengthy dream sequence in which she "dies" of a heart attack, but remains conscious in the morgue as Michael Berryman prepares to perform an autopsy. (Nudity alert: Topless)
Bad Girls from Mars (1991) [Myra]: Killed in an explosion (off-screen) after Edy Williams stuffs a grenade in her mouth.
Julia Wept (2000) [Kathryn]: Killed (off-screen) in a car accident; she reappears as a ghost or zombie to Julie King throughout the rest of the movie. (Thanks to Jason Paul Collum)
Horrorvision (2001) [Toni]: Strangled by living electrical cables and sucked into her computer. Her body is shown afterwards in a couple of still photos on the supernatural website.
Mega Scorpions (Deadly Stingers) (2003) [Helen]: Killed by a giant scorpion. (Thanks to Justin)
Delta Delta Die! (2003) [Rhonda Cooper]: Neck snapped by Karen A. Smith in the basement, after Karen does the same to Julie Strain. (Thanks to Disciplesoffufkin)
5 Dark Souls Part III: Retribution (2003) [Sandra]: Stabbed repeatedly (off-camera) while her bound-and-gagged niece (Darcey Vanderhoef) listens helplessly to her screams. (Thanks to Jason Paul Collum)
Exterminator City (2005) [Hair-Brushing Victim]: Killed by the robot in her apartment. (Thanks to Drizzt)
Skeleton Key (2006) [Spiderella]: Killed in an explosion when David Simmons throws several grenades down a staircase into her lair.
Sigma Die! (2007) [Mrs. Angleman]: Shot twice in the back by Joe Estevez just as Brinke is about to shoot Reggie Bannister. (Thanks to Dick Hertz)
1313: Cougar Cult (2012) [Edwina]: Killed (along with Michelle Bauer and Linnea Quigley) by the supernatural backlash when Bryce Durfee presses the magic amulet to Linnea's forehead; they transform into cougars before collapsing out of camera frame. (Thanks to Dick Hertz)
Axeman (Axeman at Cutter's Creek) (2013) [Sheriff Charlene Wopuzer]: Neck snapped by Scot Pollard.
Trophy Heads (2014) (Herself): Shot in the back with a crossbow by Adam Noble Roberts while running through the woods in a homage to her death in Slave Girls from Beyond Infinity. Her head is later shown mounted on a wall.
Safe Inside (2017) [Betsy Kane]: Stabbed in the stomach and gutted by a creature in the basement. She is discovered when Chris Harder slips in her intestines.
Mrs. Claus (2018) [Julie Cornell]: Impaled through the mouth with a metal pole by Hailey Strader after attacking Hailey with a machete.
Community content is available under
CC-BY-SA
unless otherwise noted.