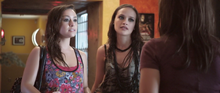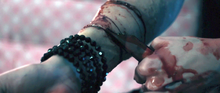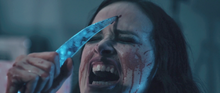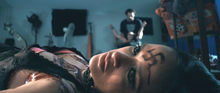 Brina Palencia (1984 - )
Film Deaths
Edit
Ghost of Goodnight Lane (2014) [Micah]: Forced by an evil spirit to use a shard of glass to slice open her palms and wrists, stab herself multiple times in the stomach, and carve a swastika into her forehead. Her body is later shown in a large pool of blood.
Lumberjack Man (2015) [LuAnn Potts]: Hit in the back with an axe thrown by Brandon Ford.She was able to pull out the axe from her back herself and died from the injury and bloodloss.
TV Deaths
Edit
Fullmetal Alchemist: Night of the Chimera's Cry (2004; anime) [Nina Tucker]: Fused with her dog Alexander by her father Shou Tucker (Chuck Huber), she was killed by Scar (Dameon Clarke) when he destroys her insides with his Destruction Alchemy, just as she mourns her father's death.
Hell Girl: Hell Girl (2006; anime) [Ai Enma]: Buried alive by the villagers which took place before the events of the series. She returns as a ghost, becoming the titular Hell Girl.
Romeo x Juliet: Prayer: In the Same World as You (2010; anime) [Juliet Capulet]: Sacrifices herself by merging with the Escalus after Chris Burnett dies from being stabbed by Jamie Marchi.
The Walking Dead: Indifference (2013) [Ana]: Eaten by zombies.
Dragon Ball Z Kai: Earth Destroyed! The Initial Buu's Nefarious Strike (2018; anime) [Chiaotzu]: Killed alongside Gohan (Kyle Hebert), Goten (Kara Edwards), Trunks (Laura Bailey), Piccolo (Christopher Sabat) and Tien (John Burgmeier) when Kid Buu (Josh Martin) blows up the Earth. Brought back to life with the Namekian Dragon Balls in the episode, An Inspired Strategy Makes Two Wishes Come True!
Zombie Land Saga: Good Morning SAGA (2018; anime) [Sakura Minamoto]: Killed by a speeding truck. Resurrected as a zombie ten years later.
Notable connections
Edit
Notable voice acting roles
Edit
Voices Moxxy in the Borderlands series
Community content is available under
CC-BY-SA
unless otherwise noted.