Wiki Targeted (Entertainment)
Play Sound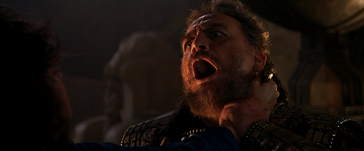 Brian Cox (1946 - )
Film Deaths
[
]
Rob Roy (1995) [Killearn]: Drowned by Jason Flemyng after being stabbed in the throat by Jessica Lange. (although unclear which kills)
Chain Reaction (1996) [Lyman Earl Collier]: Shot to death by Morgan Freeman in an elevator as Brian reaches for a gun; he dies as Morgan sends the elevator down, resulting in his body being incinerated by a hydrogen blast).
The Long Kiss Goodnight (1996) [Dr. Nathan Waldman]: Drowned (off-screen) by either Craig Bierko, David Morse or David's men; his body is shown afterwards when Geena Davis discovers him, then again when she manages to grab a gun hidden down his pants.
L.I.E. (2001) [Big John Harrigan]: Shot to death by

Walter Masterson

in Brian's car.
The Ring (2002) [Richard Morgan]: Commits suicide by electrocuting himself with equipment in his bathtub while Naomi Watts looks on.
X2 (2003) [William Stryker]: Drowned when his secret facility floods the area he's in after Hugh Jackman chains him up to a helicopter outside to a concrete wall, as well as Ian McKellen tightening the chains.
The Bourne Supremacy (2004) [Ward Abbot]: Commits suicide by shooting himself in front of Joan Allen after his crimes are exposed.
Troy (2004) [Agamemnon]: Stabbed in the neck by Rose Byrne with a concealed knife (Mythologically inaccurate: he survives the war and later killed from his wife and her lover).
Running with Scissors (2006) [Dr. Finch]: Dies (off-screen) of heart disease; his death is mentioned in the on-screen text at the end of the movie.
Battle for Terra (2007) [General Hemmer]: Killed in an explosion (along with the rest of his subordinates) when Luke Wilson crashes his ship into Brian's base.
Trick 'r Treat (2007) [Mr. Kreeg]: Decapitated and torn apart by Richard Harmon and the other zombie children.
The Escapist (2009) [Frank Perry]: Stabbed to death by Damian Lewis.
Tell Tale (2009) [Detective Van Doren]: Stabbed in the neck with a scalpel by Dallas Roberts after Brian shoots Ulrich Thomsen.
Ironclad (2011) [Albany]: Bleeds to death after Paul Giamatti has Brian's hands and feet cut off with an axe; his body is then thrown against a wall with a catapult to make certain he's dead.
Coriolanus (2011) [Menenius]: Commits suicide by slitting his wrists; his body is later shown laying on the ground.
Her (2013) [Alan Watts]: Voices an artificial intelligence entity derived from recordings of a deceased academic.
Forsaken (2015) [James McCurdy]: Shot twice in the chest by Kiefer Sutherland, causing him to fall off of a balcony.
The Autopsy of Jane Doe (2016) [Tommy Tilden]: Stabbed in the chest as a mercy killing by his son (Emile Hirsch) after supernatural forces crush the bones in his body. He is later seen as a spirit that causes the death of his son.
The Etruscan Smile (2018) [Rory MacNeil]: Dies of cancer with his grandson by his side.
Strange But True (2019) [Bill]: Commits suicide by shooting himself (off-screen) after Greg Kinnear and Amy Ryan walk in on him attempting to kill Nick Robinson.
The Bay of Silence (2020) [Milton]: Shot to death (off-screen) by

Assaad Bouab

; we only hear the gunshots as Claes Bang and Olga Kurylenko walk away. His body is seen shortly afterwards displayed on the doorstep of his house. 
Television Deaths
[
]
Teresa Raquin (1980) [Laurent LeClaire]: Commits suicide (along with Kate Nelligan) while Mona Washbourne watches in horror.
Shakespeare: The Animated Tales: Macbeth (1992) [Macbeth]: Decapitated by

Clive Merrison

during a swordfight
The Cloning of Joanna May (1992) [Carl May]: Drowns while swimming in a pond as he hallucinates that the three clones of Patricia Hodge are dragging him under water. It's later revealed that Patricia's clones had Brian cloned after his death.
Nuremberg: Episode 1.2 (2000) [Hermann Goering]: Commits suicide by taking cyanide in his cell. (Thanks to Gary)
Marple: They Do It with Mirrors (2009) [Lewis Serrocold]: Commits suicide by drowning himself in the lake (pretending to make a rescue attempt on Tom Payne as a pretext for his act). (See also John Mills in the 1985 version and Joss Ackland in the 1991 version.) (Thanks to Brian)
The Take: Episode 1.4 (2009) [Ozzy]: Garroted while sitting in the prison church.
The Day of the Triffids: Part 2 (2009) [Dennis Masen]: Poisoned after being stung by a killer plant; he dies while talking to his son (Dougray Scott). (Thanks to Stephen)
The Sinking Of The Laconia (2010) [Captain Sharp]: Drowns after his ship sinks (off-screen); he is last seen talking to one of his officers. (Thanks to Brian)
Penny Dreadful: No Beast So Fierce (2016) [Jared Talbot]: Shot in the head by Timothy Dalton.
Video Game Deaths
[
]
Manhunt (2003) [Lionel Starkweather]: Decapitated and disemboweled with a chainsaw by

Stephen Wilfong

in Brian's office.
Killzone 2 (2009) [Visari]: Shot to death by Charles Everett while Brian is speaking to Demetri Goritsas.
Syndicate (2012) [Jack Denham]: Commits suicide by falling over a ledge after being cornered by the player character.
Gallery
[
]