Cobra Kai Season 4 - The Loop
Play Sound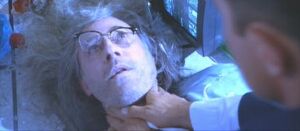 Brent Spiner (1949 - )
Film Deaths
[
]
TV Deaths
[
]
The Twilight Zone: Dead Run (1986) [Draft Dodger]: Dies (off-screen) of unspecified causes, some time before the story begins. He appears as a spirit being unjustly transported to Hell, until Steve Railsback takes pity on him (and several others) and releases him.
Star Trek: The Next Generation: Brothers (1990) [Lt. Commander Data / Lore / Dr. Noonian Soong]: Playing a triple role as the android "Data", his evil twin "Lore", and their human creator, "Dr. Noonian Soong", "Dr. Soong" is fatally injured when "Lore" tosses him against a table with equipment (though he was already dying of old age/natural causes); he dies shortly afterwards while talking to "Data".
Star Trek: The Next Generation: Cause and Effect (1992) [Lt. Commander Data]: Killed in an explosion, along with the rest of the crew, when the Enterprise collides with Kelsey Grammer's ship; due to a time-loop, this is repeated several times until Brent succeeds in preventing the collision.
Star Trek The Next Generation: Descent Part II (1993) [Lt. Commander Data / Lore] Playing a dual role, "Lore" is disassembled (off-screen) after being shot with a phaser and deactivated by "Data".
Star Trek: The Next Generation: All Good Things... (1994) [Lt. Commander Data]: Portraying a triple role of "Data" from the past, present, and future, each is killed when the Enterprise of each point in time converge and are destroyed while collapsing the anti-time anomaly. Everyone's deaths are undone when John de Lancie resets the timeline.
Deadly Games: The Practical Joker (1995) [Danny Schlecht]: Playing a dual role as the real "Danny" and a video game character brought into the real world, the video game character is vaporized when Christopher Lloyd ejects the tape from Brent's VCR bomb, wiping him out of existence.
Alphas: Blind Spot (2011) [Dr. Graham Kern]: Stabbed in the side of the neck with a glass shard by Rebecca Mader.
The Blacklist: The Architect (No. 107) (2017) [The Architect]: Dies in an explosion when Amir Arison Shot a high powered rifle blast into his SUV, causing it to explode. 
Outcast: This is How it Ends (2017) [Sidney]: Suffocated by

Phillip Glenister

while Patrick Fugit tries to stop him. His final words are "You Lost Kyle" as he dies. 
Star Trek: Picard (2020) [B-4, Lt. Commander Data, Dr. Altan Soong]: Playing a triple role. "B-4" dies off-screen between Star Trek Nemesis and the present day, as his primitive positronic network was unable to support Data's neural network anbd collapsed. His remains are kept disassembled at the Daystrom Institute, and are shown to Patrick Stewart by Alison Pill. "Data" is revealed to have been resurrected by "Altan" and John Ales, and is living in a simulated reality. He dies again when Patrick shuts down the simulacrum at "Data's" request. "Altan" survives the first season (B-4's remains are props and not actually portrayed by Spiner. However because the role was originated by Spiner in Star Trek Nemesis it is listed here to record his death between the film and series).
Gallery
[
]