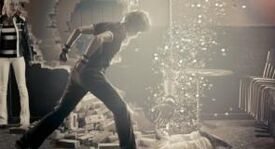 Brandon Routh (1979 - )
Film Deaths
Edit
TV Deaths
Edit
Legends of Tomorrow: Destiny (2016) [Ray Palmer]: In a vision seen by Arthur Darvill of the future, Brandon is killed in an explosion while attempting to destroy the Oculus (This is averted, however, when Wentworth Miller sacrifices himself to destroy it so Brandon survives the episode.)
Legends of Tomorrow: Aruba (2017) [Ray Palmer - Aberration]: In a dual role as Ray from the past and an aberration from an alternate future, the aberration is killed after Matt Letscher rips his heart out of his chest. The past version of Ray survives the episode.
Legends of Tomorrow: Here I Go Again (2018) [Ray Palmer]: Killed multiple times throughout the episode in a time loop when the Waverider explodes, while he and Tala Ashe are crushed when Caity Lotz hits them with a newspaper while they are shrunken. (The time loop is later revealed to be a simulation for Tala set up by Amy Pemberton to help Tala become close with the Legends and stay, so Brandon survives the episode.)
Legends of Tomorrow: Legends of To-Meow-Meow (2018) [Ray Palmer]: In one of the alternate timelines, Brandon (along with Nick Zano and Dominic Purcell) are killed when Jane Carr strangles them to death with vines; This timeline is averted when Maisie Richardson-Sellers stops Jane and erased completely when Matt Ryan doesn't break up with Christian Keyes.
Notable Connections
Edit