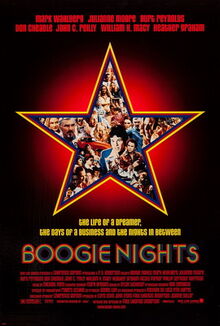 Boogie Nights (1997)
Director: Paul Thomas Anderson
In the San Fernando Valley in 1977, teenage busboy Eddie Adams (Mark Wahlberg) gets discovered by porn director Jack Horner (Burt Reynolds), who transforms him into adult-film sensation Dirk Diggler. Brought into a supportive circle of friends, including fellow actors Amber Waves (Julianne Moore), Rollergirl (Heather Graham), Buck Swope (Don Cheadle) and Reed Rothchild (John C. Reilly), Dirk fulfills all his ambitions, but a toxic combination of drugs and egotism threatens to take him back down.
Male Deaths
Edit
Female Deaths
Edit
Robert Ridgely's final film.
Heather Graham filmed her nude scene on her first day on the set.
After seeing a rough cut of the film, Burt Reynolds regretted making it, and fired his agent for recommending the role to him. Reynolds ended up winning a Golden Globe, and being nominated for an Academy Award for his performance.
According to William H. Macy, his agent discouraged him from reading the script. Macy read the script, loved it, and signed on to do the film.
Paul Thomas Anderson had the role of Scotty with Philip Seymour Hoffman in mind. When Hoffman read the script, he was stunned to learn that the subject matter was porn.
Leonardo DiCaprio was originally offered the role of Dirk Diggler. He liked the screenplay, but turned it down because he had already signed on to do Titanic (1997). DiCaprio suggested Mark Wahlberg for the role.
Paul Thomas Anderson simulated the dialogue in the fake porn movies by adapting actual dialogue from real porn movies. He said he did it, so people could not say the porn dialogue "sounded fake."
Community content is available under
CC-BY-SA
unless otherwise noted.