Wiki Targeted (Entertainment)
Play Sound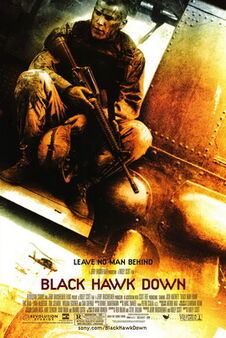 Black Hawk Down (2001)
Director: Ridley Scott
Summary
[
]
The film takes place in 1993 when the U.S. sent special forces into Somalia to destabilize the government and bring food and humanitarian aid to the starving population. Using Black Hawk helicopters to lower the soldiers onto the ground, an unexpected attack by Somalian forces brings two of the helicopters down immediately. From there, the U.S. soldiers must struggle to regain their balance while enduring heavy gunfire.
Male Deaths
[
]
Female Deaths
[
]
Trivia 
[
]
Tom Hardy's first feature film.
Some of the radio chatter in the movie was taken from actual radio transmissions made during the battle.
Ben Foster had to drop out of the role as Cpl. James 'Jamie' Smith due to a serious injury sustained during basic training.
A large number of the actors who played American soldiers are actually from different countries. The list includes: Ewan McGregor (Scottish), Eric Bana (Australian), Kim Coates (Canadian), Ioan Gruffudd (Welsh), Ewen Bremner (Scottish), Jason Isaacs (English), Zeljko Ivanek (Slovenian), Nikolaj Coster-Waldau (Danish), Tom Hardy (English), Matthew Marsden (English), Orlando Bloom (English) and Hugh Dancy (English).
On the last day of their week-long Army Ranger orientation at Fort Benning, the actors who played the Rangers received a letter that had been anonymously slipped under their door. The letter thanked them for all their hard work, and asked them to "tell our story true", signed with the names of the Rangers who died in the Mogadishu firefight.