Wiki Targeted (Entertainment)
Play Sound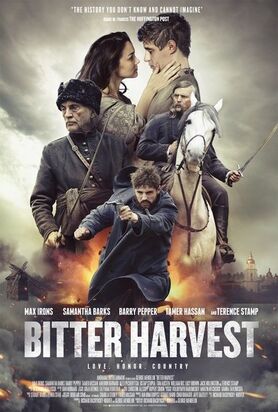 Bitter Harvest (2017)
Top Producer: Ian Ihnatowycz
Executive Producer :Richard Bachynsky Hoover
Producer :Stuard Baird . Chad Barger.
Executive Producer : Dennis Davidson
Director: George Mendeluk
Screen Writer : Richard Bachynsky Hoover
Story by Richard Bachynsky Hoover
Plot
[
]
Set in 1930s Ukraine, as Stalin advances the ambitions of communists in the Kremlin, young artist Yuri battles to save his lover Natalka from the Holodomor, the death-by-starvation program that ultimately killed millions of Ukrainians.
Ivan and Yaroslav do battle in Smila central Ukraine ( the writers Son Yevhen aka Genya birthplace )against the Bolsheviks with Sergei the commanding Commisar invading Ukraines farms to enforce Collectivization and requisition all wheat and food and valuables and all religious artifacts.
Male Deaths
[
]
Female Deaths
[
]
Lucy Brown as Yuris Mother Lena.