Wiki Targeted (Entertainment)
Play Sound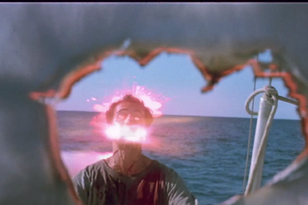 Billy Zane (1966 - )
Film Deaths
[
]
Critters (1986) [Steve Elliot]: Bitten to death (mainly in the throat) by one of the Critters during a struggle in a hay loft as

Nadine Van der Velde

looks on in shock; his body is later seen by Scott Grimes.
Dead Calm (1989) [Hughie Warriner]: Shot in the mouth with a flare gun by Sam Neill while Billy is trying to strangle Nicole Kidman on the deck of the boat; Billy then falls overboard into the ocean.
Poetic Justice (1993) [Brad]: Shot repeatedly in the chest and head by Lori Petty in a film-within-a-film sequence.
Posse (1993) [Colonel Graham]: Impaled on a sword at the end of a fight with Mario Van Peebles, he dies after staggering out of a burning saloon (with Mario then shooting his body repeatedly).
Tombstone (1993) [Mr. Fabian]: Shot to death (off-screen) by outlaws. His body is shown when another group of outlaws come upon his stagecoach.
Tales from the Crypt Presents: Demon Knight (1995) [The Collector]: Explodes (after transforming into his true demonic form) when Jada Pinkett Smith spits a mouthful of holy blood in his face.
Head Above Water (1996) [Kent]: Dies (off-screen) of a heart attack; his body is shown the next morning when Cameron Diaz discovers him, and the rest of the movie deals with the others's efforts to dispose of the body.
Titanic (1997) [Cal Hockley]: Commits suicide (off-screen) by shooting himself in the mouth. His death is mentioned in Gloria Stuart's narration.
I Woke Up Early The Day I Died (1998) [The Thief]: Falls to his death while trying to grab money that's floating in the air. (Played for black comic effect.)
Silent Warnings (2003) [Sheriff Willingham]: Killed in an explosion/burned to death when he ignites the fuel with a gunshot in order to kill some of the aliens he is fighting with (so

A. J. Buckley

can escape).
Dead Fish (2005) [Virgil]: Shot in the back by Karel Roden in street at night.
Valley of the Wolves: Iraq (Kurtlar Vadisi - Irak) (2006) [Sam William Marshall]: Killed by

Necati Sasmaz

and

Berguzar Korel

.
The Mad (2007) [Dr. Jason Hunt]: Possibly killed (along with Maggie Castle) by Michael Rhoades after he turns into a zombie or when he crashes their car into a tree (off-screen); the film ends with the car crashing.
Blue Seduction (2009) [Mikey Taylor]: Stabbed to death by Estella Warren.
Surviving Evil (2009) [Sebastian 'Seb' Beazley]: Devoured by the Aswang creatures as he tries to fight them off with his machete, after becoming critically injured when he impales himself on his machete while he and Christina Cole trip and roll down a hillside.
The Scorpion King 3: Battle for Redemption (2012) [Talus]: Surrounded and killed by the ninjas.
Blood of Redemption (2013) [Quinn]: Shot to death by Dolph Lundgren.
Dead Rising: Endgame (2016) [Rand]: Shot to death by Ian Tracey, as Jesse Metcalfe looks on.
Holmes & Watson (2018) [Billy Zane]: Seen getting onto the Titanic in parody of his role in Titanic (1997) (Billy doesn't die in the film, but seeing as the Titanic sank in real life and Billy died in that film it'll be listed as a death). (Played for comic effect)
Ghosts of War (2020) [Dr. Engel]: Shot in the head by Brenton Thwaites while fighting Alan Ritchson in a simulation; he survives the film in reality.
Final Kill (2020) [Carl Riser]: Shot to death (off-screen) by

Ed Morrone

. The movie cuts to black as we gunshots from both of them.
TV Deaths
[
]
Deaths in Music Videos
[
]
Rock n Roll (2013) [Avril Lavigne music video]: Killed by a "bearshark."
Gallery
[
]
Notable Connections
[
]