Wiki Targeted (Entertainment)
Play Sound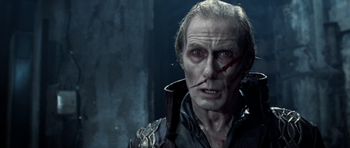 Bill Nighy (1949 - )
Film Deaths
[
]
Shaun of the Dead (2004) [Philip]: Dies of the zombie virus after being bitten on the throat by Keir Mills; he dies shortly after making peace with Simon Pegg due to the strained relationship between their characters and then Bill comes back to life as a zombie some short time later. Earlier in the film, he was bludgeoned to death by Simon and Nick Frost 3 times as zombie in dream sequence when Simon explain his 'plan' to Nick. Triva: Originally Zombie Philip was going to kill himself accidentally by sending the car careening into a wall where it would have blown up on impact but this was cut due to the budgetary contraints.
Pirates of the Caribbean: At World's End (2007) [Davy Jones]: Playing an undead being, he is destroyed when his disembodied heart is stabbed by Johnny Depp (using Orlando Bloom's hand to do so); Bill then falls overboard into a whirlpool. (Although the post-credits scene of Dead Men Tell No Tales indictates that the character might make a return in the next instalment). (Thanks to Tina, Anton, Andrew, Bryan, and Hunter)
Glorious 39 (2009) [Sir Alexander Keyes]: Dies (off-screen) of old age/natural causes, at some point between the 1939 storyline and the present-day framing sequence. (Thanks to Tommy)
About Time (2013) [Tim's Father]: Dies (off-screen) from terminal cancer. He continues to be seen when his son (Domhnall Gleeson) travels back in time to visit him in the past.
Jack the Giant Slayer (2013) [Fallon]: Playing the voice of one of the heads of a two headed giant (along with John Kassir), Nighy is ripped apart from the inside after Nicholas Hoult throws a magic bean down Nighy's throat, causing a beanstalk to grow from inside their stomach.
I, Frankenstein (2014) [Naberius]: Descends to Hell after having the symbol of the gargoyle order carved on his chest during a battle with Aaron Eckhart. (Note: Bill is in heavy demon make up during his death scene)
Their Finest (2016) [Ambrose Hilliard/Uncle Frank]: In the film-within-the-film The Nancy Darling, "Uncle Frank" dies some time after being shot by a German plane while trying to cut a rope tied around the titular boat's propellor. ("Ambrose", the actor Bill plays, survives the film.)
TV Deaths
[
]
Hitler's SS: Portrait in Evil (1985) [Helmut Hoffman]: Shot in the head.
Testament: The Bible in Animation: Daniel (1996; animation) [Belshazzar]: Killed in the battle (off-screen), His head was later shown on a spike.
Castlevania: The Endings (2021) [Saint Germain]: Playing the voice of 'Saint Germain' he dies when a blade hits him in the chest when part of the castle explodes.
Gallery
[
]
Notable Relations
[
]